Kluber set for return to mound on Saturday
Kluber set for return to mound on Saturday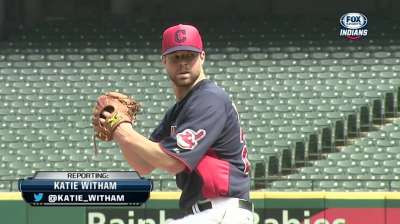 CLEVELAND -- Instead of backing up Scott Kazmir on Friday -- as the Indians originally planned -- Corey Kluber will make his first appearance since early August on Saturday, when he starts in place of the injured Justin Masterson.
Kluber has been on the 15-day disabled list since Aug. 6 because of a right middle finger sprain. With Masterson set to miss at least one start, the Indians are relieved to be welcoming Kluber back into the rotation as the season nears its finish.
Manager Terry Francona said Kluber, who impressed during a simulated game on Monday, will probably be limited to between 75 and 80 pitches in his return.
"Some of that depends on how he gets there," Francona said Tuesday. "If he has to work real hard in a couple of innings, we need to be cognizant of that, and we will be. He threw the ball really well yesterday. I was kind of proud of him. For him to do that, it's pretty obvious he's worked his tail off."
When Cleveland fans last saw Kluber pitch, he held Detroit to six hits over 7 1/3 scoreless innings. Across 21 games (19 starts) this season, he is 7-5 with a 3.54 ERA.
Like Masterson and Kluber, Zach McAllister has also been limited because of injuries this year, meaning the Indians have probably garnered more experience than they'd like to when it comes to finding replacements for injured starters. The expanded roster that September allows for gives them options to adjust the rotation if something else goes wrong.
One player Cleveland could turn to in that event is Josh Tomlin, who was recalled from Triple-A Columbus on Tuesday.
"There may be opportunities for starts," Francona said. "Things change quickly, as we noticed yesterday. Right now, the plan is to have him throw out of the bullpen. He is definitely a candidate to start, if we need one."
Mark Emery is an associate reporter for MLB.com. This story was not subject to the approval of Major League Baseball or its clubs.