Yankees stun White Sox with five-run eighth
Yankees stun White Sox with five-run eighth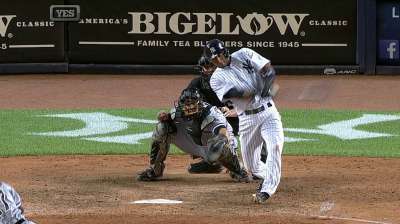 NEW YORK -- Eduardo Nunez's teammates had a good laugh at his expense last Wednesday, leaving a wheelchair in front of his locker after he twisted his knee the night before in Toronto and drawing a tape outline of where he fell on the field.
They were all smiles again on Tuesday night, but they weren't laughing at him this time. Instead, they were celebrating with him.
The shortstop provided the game-winning hit in the eighth inning on Tuesday, ripping a two-run double down the left-field line to cap off a five-run inning as the Yankees came from behind to beat the White Sox, 6-4.
"It was a great comeback," Nunez said. "We all fought together."
For much of Tuesday's game, it looked like the Yankees had little chance of beating the White Sox. Hiroki Kuroda was in line for his fourth straight loss, Chris Sale looked unhittable and Chicago held a three-run lead entering the bottom of the eighth inning.
But the Yankees stormed back. Derek Jeter singled and Robinson Cano doubled with one out, and Alfonso Soriano brought them both home with a two-run single. Alex Rodriguez moved Soriano to third with a single and Curtis Granderson drove him home with another, turning a three-run deficit into a tie ballgame and giving Nunez a chance to win it.
"Sale has been extremely tough on us," manager Joe Girardi said. "He was tough on us there, but Robbie gets that big double that gets him out of the game, and then guys just put great at-bats on the relievers. That's a huge win."
Sale held the Yankees to just one run over the first seven innings before giving up hits to Jeter and Cano and exiting the game after 7 1/3 innings. The bullpen allowed those inherited runners to score, saddling the left-hander with three runs (two earned) on five hits while striking out six.
"Any loss is tough, but crazy things happen in this game of baseball," Sale said. "That's why it's never over till the last out is made."
Kuroda struggled out of the gate again on Tuesday, giving up two hits and a walk, loading the bases and allowing a first-inning run on an RBI single from designated hitter Adam Dunn. The right-hander would settle down to throw three straight scoreless frames after that, but Chicago tagged him for two more runs in the fifth inning on shortstop Alexi Ramirez's triple.
Left fielder Alejandro De Aza's home run in the seventh inning ended his outing after 6 1/3 innings. Kuroda gave up four runs on seven hits, walking two and striking out seven.
It's been a struggle of late for Kuroda, who has given up 23 runs over his last 23 innings and raised his ERA from 2.33 to 2.99. Girardi said he's dealing with fatigue.
"I thought his stuff was better tonight," Girardi said. "The top of the order has been tough on him, and they were tough on him again tonight. But I thought his stuff was better, and that's a good sign for me."
Vernon Wells scored the Yankees' first run in the second inning, singling to shortstop, advancing to second on second baseman Gordon Beckham's error, advancing to third on third baseman Conor Gillaspie's error and scoring on a double steal with Nunez.
Jeter finished the game 2-for-3, and his third-inning single -- hit No. 3,314 in his career -- moved him past Eddie Collins and into ninth place on baseball's all-time hits list, according to Elias Sports Bureau.
"Obviously, he'll continue to move up," Girardi said. "But it's amazing what he's accomplished."
Closer Mariano Rivera came on to throw a perfect ninth inning, notching his 40th save and reaching the 40-save plateau for the ninth time in his career.
The victory, coupled with the Orioles' loss to Cleveland, moved the Yankees back into sole possession of third place in the American League Wild Card race.
"Every game is important. It's like the playoffs," Nunez said. "We have to win all these games."
Josh Vitale is an associate reporter for MLB.com. This story was not subject to the approval of Major League Baseball or its clubs.