White Sox unable to close out Yankees in eighth inning
White Sox unable to close out Yankees in eighth inning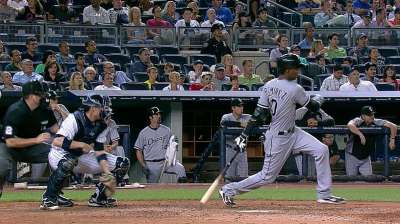 NEW YORK -- The trying 2013 White Sox season has reached a point over the last week where it's almost about which loss is tougher to handle.
Monday's setback to the Yankees featured an eight-run fourth that was as bad of a half-inning for the White Sox as could be found in recent memory. Tuesday's contest looked much different, with staff ace Chris Sale on the mound and cruising through seven stellar innings.
But just when it appeared that the White Sox were about to end their four-game losing streak, the Yankees remembered the American League Wild Card race. New York, sitting 2 1/2 games out of the final playoff spot entering the contest, put together a five-run, eighth-inning rally against Sale and three relievers to claim a 6-4 victory.
Even after Derek Jeter singled and Robinson Cano doubled to end Sale's night with one out in the eighth, the eventual ending still didn't look entirely plausible.
"I definitely didn't see that coming tonight," said White Sox designated hitter Adam Dunn, after his squad dropped to 0-5 on this 10-game East Coast road trip. "Tonight is a tough one."
"Any loss is tough, but crazy things happen in this game of baseball," said Sale. "That's why it's never over till the last out is made."
Nate Jones replaced Sale and jumped ahead 0-2 on Alfonso Soriano, only to have Soriano line a slider to center to score two runs. Alex Rodriguez then delivered a 3-2 single to left-center to put runners on first and third.
Donnie Veal was next for the White Sox (56-81), with the southpaw called on to retire left-handed-hitting pinch-hitter Curtis Granderson, but Granderson ripped a 3-1 fastball to center for the game-tying shot. After Veal struck out Mark Reynolds, Eduardo Nunez doubled home two off of Matt Lindstrom to put the Yankees ahead.
Mariano Rivera pitched a perfect ninth for his 40th save, reaching at least 40 saves in a season for the ninth and final time. One-time White Sox reliever Boone Logan (5-2) picked up the victory.
Neither of those options seemed on tap for the night with Sale continuing his dominance over the Yankees (74-64). He fanned six over 7 1/3, giving him 199 strikeouts, and needs just 12 1/3 innings to reach 200 for the season.
Robin Ventura could have started Jones in the eighth. But with Sale at 102 pitches and feeling great, while also getting an extra day of rest because of the modified six-man rotation the White Sox have adopted and two of the first three Yankees hitters being left-handed, the White Sox manager stuck with his No. 1 guy.
"He looked sharp," said Ventura of Sale. "Again, it's a tough team and it's a professional lineup. They keep grinding the whole way. You have to get those outs. They aren't going to just give them to you."
"Sale has been extremely tough on us," Yankees manager Joe Girardi said. "But Robbie gets that big double that gets him out of the game, and then guys just put great at-bats on the relievers. That's a huge win."
Chicago's offense did just enough against Yankees starter Hiroki Kuroda to support Sale, but not enough to put the game away.
Dunn singled home a run in the first, although the White Sox left the bases loaded when Avisail Garcia and Conor Gillaspie both struck out swinging. They scored two more in the fifth on Alexei Ramirez's triple to break a one-all deadlock, bringing home Alejandro De Aza, who had singled, and Gordon Beckham, who had walked. But Ramirez, who reached third with nobody out, was doubled off on Paul Konerko's line drive to Nunez at shortstop to end the frame.
De Aza finished with three hits, including a seventh-inning homer to end the night for Kuroda. Beckham doubled and singled to go with an 11-pitch at-bat that ended in the free pass, which featured six foul balls.
They were solid individual efforts to build up an early advantage. They also were just good enough for the White Sox to lose.
"That's kind of been the story. We are not able to get the big hits to open up the game," Dunn said. "We've had opportunities it seems like for the most part all year in every game. We just can't seem to get that big hit to open up the game or put us in the lead or tie it."
Tuesday's setback dropped the White Sox elimination number in the American League Central to one, and they are guaranteed to finish no better than .500. For a team that has been out of contention for a while, though, the standings and final ledger don't mean as much as playing hard and trying to win every game.
Their goal now includes putting hard-to-take losses like the second game of this three-game set quickly behind them.
"We want to win as many games from here on out as we can," Sale said. "We might not be in playoff contention, but we have pride on the line."
"You can't pinpoint one loss being tougher than another," Dunn said. "You come in every single day doing the same thing, and every night you expect to win and obviously your chances elevate with someone like Chris on the mound. It [stinks] because everybody is doing everything they can to get through this and go out and play good and win as many games as we can down the stretch."
Scott Merkin is a reporter for MLB.com. Read his blog, Merk's Works, and follow him on Twitter @scottmerkin. This story was not subject to the approval of Major League Baseball or its clubs.