Swarzak an ironman out of Twins' bullpen
Swarzak an ironman out of Twins' bullpen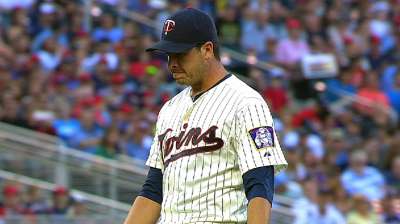 HOUSTON -- Twins reliever Anthony Swarzak tossed a season high 4 1/3 innings of relief on Monday. Swarzak held the Astros in check while the Twins rallied from a three-run deficit for a 10-6 win in the series opener.
Swarzak entered the day leading all Major League relievers with 86 1/3 innings pitched this season. The next closest was the D-backs' Josh Collmenter with 80. That total is also the most by a Twins reliever since Matt Guerrier threw 88 innings in 2007.
Swarzak is part of a Twins bullpen that has eaten up 471 2/3 innings this season, second only to Toronto (473 1/3) entering Tuesday's game.
Twins manager Ron Gardenhire was concerned about leaving Swarzak in for his final inning.
"He had thrown 55 pitches before that inning," Gardenhire said of the 70-pitch outing. "I just don't want him to hurt himself.
"It looked like he was getting a little tired, but his last two innings were pretty good. He told me he felt great, so we ran him back out for one more inning. And that helps. That saves a couple of other arms. That was a big inning."
Glenn Sattell is a contributor to MLB.com. This story was not subject to the approval of Major League Baseball or its clubs.