Twins score three in the 12th to take down Astros
Twins score three in the 12th to take down Astros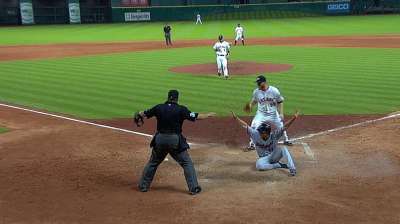 HOUSTON -- Brian Dozier and Trevor Plouffe each hit two-run homers and lefty Pedro Hernandez turned in the first quality start of his career, but it still took 12 innings for the Twins to beat the Astros, 9-6, on Tuesday at Minute Maid Park.
After starting the current six-game road trip with two wins in Arlington, the Twins have taken the first two in Houston and go for the sweep on Wednesday afternoon.
After blowing a 6-3 lead with two outs and two strikes in the ninth, the Twins regrouped in the 12th. In only his second Major League game, Twins catcher Josmil Pinto hit a one-out double, his fourth hit of the game, moving Clete Thomas to third. Thomas scored the go-ahead run when Kevin Chapman, Houston's fifth pitcher, threw a wild pitch.
"The first pitch I thought was a ball, but the umpire called it a strike," Pinto said. "So I thought to myself, 'I need to try a little harder.' The next pitch was a slider and I hit it."
Darin Mastroianni piled on with a two-run double to score Pinto and Doug Bernier, who was running for pinch-hitter Ryan Doumit, who had walked.
Caleb Thielbar (3-2), the sixth of seven Twins pitchers, earned the win with two hitless innings of relief. He struck out two, and Josh Roenicke picked up his second career save and first this season.
"That's the important thing, at the end of the day, that you get a win," Twins manager Ron Gardenhire said.
Dozier gave the Twins a 2-0 lead in the first with his 17th homer of the season. The Twins second baseman lined a 3-2 belt-high fastball from Astros starter Jarred Cosart into the fifth row beyond the left-field fence to score Mastroianni, who had singled.
Two innings later, Plouffe belted his 14th homer of the year, a two-run blast that also scored Josh Willingham for a 4-1 Twins lead. Willingham drew a two-out walk, and Plouffe delivered with the first of a career high four-hit night to extend his hitting streak to eight.
"The first inning, I thought I punched Dozier out on the inside fastball, and I tried to go back in there and it was down the middle," Cosart said. "It's part of our ballpark dimensions. I got behind Plouffe and threw him a 1-0 heater right down the middle and he hit it out. That's baseball, and you can't fall behind in this league."
Cosart was done after four innings, his shortest stint in nine Major League starts. The rookie right-hander yielded four runs on five hits. He walked three and struck out five.
Meanwhile, Hernandez was working on the longest start of his career.
"I was working in and out with my sinker and fastball inside," Hernandez said.
He worked six-plus innings, allowing two runs on six hits. His longest previous outing was 5 1/3 innings, accomplished twice.
He struck out three on Tuesday and didn't walk a batter in his ninth career start (and eighth with the Twins). He was efficient, throwing 42 strikes in 70 pitches.
"We had a 70-85 pitch limit on him," Gardenhire said. "After the first guy got on [in the seventh], we didn't want to let him go too much farther than that, facing [Chris] Carter and all those guys."
Hernandez exited after giving up a leadoff single in the seventh and reliever Casey Fien struck Carter out before walking Brett Wallace and yielding a two-out, two-run single by center fielder Brandon Barnes to make it 4-3.
Brian Duensing was summoned out of the Twins' bullpen only to throw a wild pitch, putting the potential tying run on third base. But an unsuccessful delayed double steal preserved the lead, with first baseman Chris Colabello throwing home to nail Barnes.
Colabello dropped a throw from Dozier during the rundown, prompting Barnes to break for home. But Colabello remained composed, picked up the ball and fired to Pinto.
"It was like slow motion," Colabello said. "I felt it go off my hand. I was like, 'This ball is going to fall out of my glove.' As it was happening, I was processing in my head that if he broke for home I would definitely have a shot to throw him out. [Dropping the ball] was definitely not on purpose. Thankfully, it worked out. I definitely didn't draw it up that way."
Colabello said upon receiving the throw from Dozier, he saw Barnes take a step back towards third.
"I knew he definitely didn't have momentum going toward home, but I figured worse case scenario is they end up with [runners on] second and third -- they're not going to score a run," Colabello said. "So my first instinct when I picked it up was to turn and look at home, and then I saw [Barnes] break."
Pinto applied the tag to end the inning, and then he led off the eighth with a single, sparking a two-run rally and a 6-3 lead. He scored on a one-out double by Alex Presley, who moved to third on a passed ball and scored when Mastroianni lifted a sacrifice fly to center.
Jared Burton retired the side in order in the eighth, but Glen Perkins squandered the lead in the ninth. Perkins gave up a two-out, two-strike, three-run homer to Barnes, who went the opposite way into the right-field seats.
"We haven't lost the lead too many times with Perk in the game," Gardenhire said. "He just didn't have his stuff, though. Kid hit a fastball out and over the plate, about 95 miles an hour, in the seats and there you have it. He just couldn't locate the baseball, couldn't get it where he wanted to and they made him pay for it."
Astros manager Bo Porter lamented the fact that his team couldn't get the job done after its late rally.
"You wish you could have just closed it out there [after Barnes' homer], but we didn't," Porter said. "They did a good job of coming back and getting the win."
Glenn Sattell is a contributor to MLB.com. This story was not subject to the approval of Major League Baseball or its clubs.