Mariners unable to fend off KC's late charge
Mariners unable to fend off KC's late charge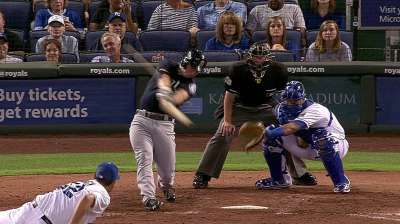 KANSAS CITY -- The entire eighth inning of the Mariners' 4-3 loss to the Royals on Tuesday night was symbolic of the growing pains a young Seattle team has gone through all season.
Whether it's Abraham Almonte making an ill-advised try for a diving catch and allowing the go-ahead run to take second or Mike Zunino failing to get his bat on the ball with a runner at third and one out in a tie game, the hard lessons just keep on coming.
In the fateful eighth, the Mariners had runners at second and third with one out and didn't score. The Royals had two outs with none on, but still managed to scratch out what proved to be the winning run on Salvador Perez's RBI single off Yoervis Medina.
And so it goes for the Mariners, who hope that learning how to win in 2013 will translate into a plethora of victories in 2014 after all the growing pains and on-the-job training.
"Those are the type situations with these young kids that they've got to get comfortable being in," Mariners manager Eric Wedge said. "We've got some great young competitors here who are struggling in those types of situations." The Mariners (62-76) fought back from a 3-0 deficit to tie the game in the seventh. But in the eighth, there was frustration at the plate and in the field.
With one out, Raul Ibanez reached on an infield hit and Justin Smoak doubled to left, setting up a second-and-third situation. Royals manager Ned Yost lifted left-hander Tim Collins for right-hander Luke Hochevar and Zunino promptly went down on strikes.
"They really pitched Zunino tough in that situation," Wedge said. "[Hochevar] threw some heavy, hard sinkers and Mike wasn't able to get to it."
Endy Chavez followed with a fly ball to center that came one out too late. And then the Royals overcame a close call in the eighth to snatch the game away. After Eric Hosmer walked to open the inning, Medina came on and got Billy Butler to rap a hard grounder at third baseman Kyle Seager with the runner going.
Seager still went to second with his throw, knowing that even if Hosmer was safe there was still plenty of time to get the slow-footed Butler at first.
"[Hosmer] took off the pitch before and there was a foul ball," Seager said. "You're pretty sure he'll be running again. I decided if he hits it hard to me, I'm going to throw it [to second] regardless because, worst-case scenario, we would have time to turn it at first."
Seager's throw arrived to the bag just ahead of Hosmer's foot and the Mariners turned the 5-4-3 double play. But relief turned to angst moments later as Mike Moustakas lined what appeared to be a routine single to center. Almonte, playing deep, wasn't really close to the ball when he attempted a diving catch. The ball bounced off him and Moustakas wound up at second. That meant the Royals needed just one hit - not two - to plate the go-ahead run. Perez then lined his RBI single to left.
Wedge can only hope that Almonte learned from his mistake.
"He's not going to make that catch," Wedge said. "So, the best play for him is to pull up, get it on a hop and keep him out of scoring position. He's trying to make a play right there. … .A little bit overly-aggressive." Mariners starter Erasmo Ramirez departed after allowing three runs over 6 1/3 innings. The first pitch he threw wound up over the right-field fence as Alex Gordon went to the plate swinging.
Ramirez figured he'd get ahead with his first pitch of the night, but Gordon had other ideas.
"Most of the time, you just go ahead and throw a strike," Ramirez said. "But he got a good swing and the ball went over the fence. What can I do?"
The Royals (72-66) needed the win to keep churning in a crowded battle for the second Wild Card spot in the American League.
"They're all huge now, every one of them," Yost said. "To come up big [in the eighth] with the two-out rally, it's just another sign of how well we're playing right now and how much confidence we've got."
Robert Falkoff is a contributor to MLB.com. This story was not subject to the approval of Major League Baseball or its clubs.