Ramos paces Nats' support of Gio vs. Phils
Ramos paces Nats' support of Gio vs. Phils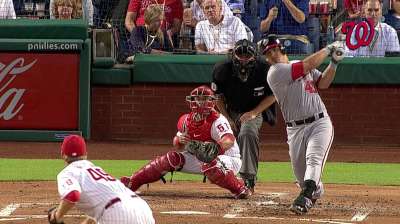 PHILADELPHIA -- Even though they defeated the Phillies, 9-6, at Citizens Bank Park on Tuesday night, the Nationals continue to have a tough time gaining ground in the National League Wild Card race.
The Nationals remain 7 1/2 games behind the Reds for the second and final NL Wild Card spot. Cincinnati edged the Cardinals, 1-0, at Great American Ball Park.
The Nationals were fortunate to win the game. They made three errors, and left-hander Gio Gonzalez was not at his best on the mound in a game that lasted three hours and 38 minutes. It didn't help that both teams walked a combined 13 batters.
"It was an ugly game, that's all I can tell you," Nationals manager Davey Johnson said. "It's one of the ugly ones I've seen. Gio had a real rough start. He threw a lot of pitches. He hung in there. [The fielders] were sloppy behind him. It's not the way you win pennants, I'll tell you that."
It was the Nationals taking charge in the first 5 1/2 innings, building a 7-2 lead. Wilson Ramos put Washington on the scoreboard in the second inning with a three-run homer off right-hander Ethan Martin.
"I was waiting for one pitch in the zone and I hit the ball hard," Ramos said. "During batting practice, I was hitting the ball [up] the middle. So, today, the first at-bat, I was trying to hit the ball up the middle and see what happens."
Gonzalez threw a lot of pitches -- 118 -- in 5 2/3 innings. His saving grace was the changeup, and it helped him win his ninth game of the season.
"I was fortunate to go at least that long, especially knowing that I felt uncomfortable on the mound the whole game," Gonzalez said. "You can look at it from both sides: The Phillies had a lot of walks, we had a [few] walks. It was just one of these weird games. You just can't explain it."
Philadelphia scored its first two runs in the fourth inning. Cody Asche singled to center field, scoring Kevin Frandsen and Carlos Ruiz. Only one of the runs was earned that inning because of an error by third baseman Ryan Zimmerman.
In the fifth inning, Phillies pitchers had a tough time throwing strikes. With the bases loaded, two outs and Martin still on the mound, Adam LaRoche drew a walk to send home Denard Span.
Martin then left the game in favor of right-hander Justin De Fratus, who walked Ramos, scoring Bryce Harper.
An inning later, left-hander Mauricio Robles was on the mound when Jayson Werth blooped a ball over the head of shortstop Freddy Galvis, scoring Zimmerman, while Harper later came home on a single by Ian Desmond.
"Frustrating game on the pitching side, a lot of pitches thrown, bases on balls," Phillies manager Ryan Sandberg said. "They had a lot of baserunners answering with hits. Martin, right from the get-go, didn't really establish his fastball. He was pitching a little careful, a little backward early. The bullpen came in and struggled. Bases on balls hurt us."
The Phillies made it a close game in the bottom of the sixth, scoring three runs. Gonzalez was on the mound when John Mayberry Jr. hit a ground ball to Desmond, with his throwing error allowing Darin Ruf to score. Michael Martinez followed and singled to left field, scoring Mayberry.
Ryan Mattheus entered the game and allowed Chase Utley to single down the third-base line, scoring Martinez to make it a 7-5 game.
Pinch-hitter Corey Brown, making his season debut after getting called up to the big leagues Tuesday afternoon, gave the Nationals some breathing room in the eighth inning. He hit a monster home run over the right-field wall off right-hander Luis Garcia, and Asche responded with a solo homer off Tyler Clippard in the bottom of the inning.
"I felt great. Obviously first time back, there are always some jitters," Brown said. "But I just tried to tell myself to make sure and get a pitch, because I can chase a few every now and then. I just wanted to see my pitch, square one up and just try to get on base somehow."
Span scored the Nats' final run, crossing home from third after a dropped third strike allowed Harper to reach first with two outs in the ninth.
Rafael Soriano pitched the ninth to record his 37th save.
Bill Ladson is a reporter for MLB.com and writes an MLBlog, All Nats All the time. He also could be found on Twitter @WashinNats. This story was not subject to the approval of Major League Baseball or its clubs.