Cards can't support Wacha, drop two back of Bucs
Cards can't support Wacha, drop two back of Bucs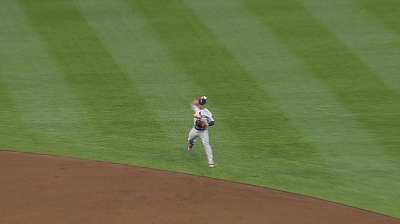 CINCINNATI -- Michael Wacha still hasn't allowed a run to the Reds. He also has yet to pitch in a win for the Cardinals against them.
A six-inning scoreless performance by the Cardinals rookie right-hander Tuesday night earned him only a no-decision. He left with the game scoreless before the Reds pushed across a run in the seventh on their way to beating the Cards, 1-0, at Great American Ball Park.
"I was just trying to keep my pitch count low and control them," said the 6-foot-6 Wacha, St. Louis' top pick in the 2012 First-Year Player Draft. "I was able to get popups and groundouts. The defense behind me made some great plays."
Wacha hadn't started a game since Aug. 10, and manager Mike Matheny was impressed with the pitcher's quick readjustment.
"He was very impressive," Matheny said. "When you put guys in that kind of situation, you never know how they're going to react. He stepped up."
Matheny didn't want to put too much faith in Wacha's durability, lifting him after six innings and 80 pitches.
"I felt strong," Wacha said. "I wasn't able to stretch it out working out of the bullpen, so I figured the pitch count would come into it. I wasn't sure what it would be. I had it in my mind that I might go out for the seventh, but I came in and they told me I was done."
Ryan Ludwick led off the seventh against right-handed reliever Seth Maness with a single and was pinch-run for by rookie basestealing sensation Billy Hamilton, who set professional baseball's single-season stolen base record last season with 155 and led Triple-A with 75 this season. In his Major League debut, Hamilton promptly stole second and scored standing up on Todd Frazier's double down the left-field line.
The Cardinals tried not to pay any special attention to Hamilton, thought Maness did throw to first three times before Hamilton stole second, sliding in ahead of catcher Yadier Molina's throw.
"He was just another baserunner," Maness said. "We know he's fast, but you treat him no different. Get the ball to the plate quick and make the throw. That's baseball."
The loss was the Cardinals' fifth in their last six games and left them just 1 1/2 games ahead of the third-place Reds in the National League Central. St. Louis, which collected just two hits in the first eight innings, trails first-place Pittsburgh by two games after the Pirates beat the Brewers, 4-3. The Cards and Reds hold the two Wild Card spots.
The Cardinals have lost back-to-back games against the Reds for the first time since a four-game losing streak last season (April 19, July 13-15).
"Maybe the worm has turned, hopefully in our direction," Reds manager Dusty Baker said. "All that counts is this game that we played today. It's very important, especially when you're trying to chase them."
Wacha wasn't as overpowering as he was in his first appearance against the Reds, when he set a career high with seven strikeouts in four shutout relief innings Aug. 28, but he still was effective. He allowed just three hits, walked two and struck out three in six scoreless innings.
Each team had two baserunners in the first inning without scoring, but the Reds didn't get a runner to second until Ryan Hanigan advanced on a wild pitch with two outs and pitcher Homer Bailey batting in the fifth. Wacha got Bailey to ground out.
Matt Carpenter hit line-drive singles to left field in each of his first two at bats against Bailey, improving to 10-for-15 against the right-hander before grounding out in the sixth. Carpenter reached second both times he was on base, pushed up when Carlos Beltran walked in the first and stealing second -- his third theft of the season -- in the third, but he was stranded both times.
Carpenter's hits were the only two allowed by Bailey, who retired the last 14 batters he faced after the second single. Bailey, who entered Tuesday 4-9 in his career against the Cardinals, walked one with eight strikeouts in seven innings.
"There's a reason he's pitched a couple of no-hitters in his career," Carpenter said. "Tonight, he was able to throw all of his pitches for strikes. He did a great job of keeping us off-balance. He had two strikes on me in every at-bat. He was pounding the strike zone with quality pitches, and when you can do that, it's tough."
Mark Schmetzer is a contributor to MLB.com. This story was not subject to the approval of Major League Baseball or its clubs.