Rays' skid reaches five after stumble in Anaheim
Rays' skid reaches five after stumble in Anaheim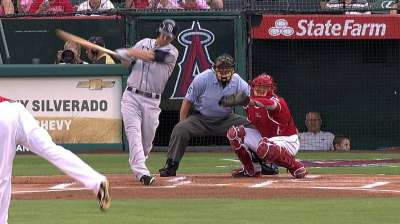 ANAHEIM -- Forget about the American League East, the AL West is wearing out the Rays.
Talk about their division being baseball's toughest is familiar in the Rays' camp. However, given the club's penchant for taking it on the chin against the AL West, the AL East bravado rings empty.
The Rays' losing streak reached five games Monday night when the Angels dealt their visitors from St. Petersburg an 11-2 Labor Day loss at Angel Stadium.
The Rays (75-61) are 1-6 since beginning a 13-game stretch against AL West teams; they hold a 34-29 advantage over AL East teams.
"We have not been playing well," Rays manager Joe Maddon said. "We have not done well with the three-hour time change. And we have to figure it out pretty soon."
Chris Archer made his 18th start of the season, hunting his ninth win on a night when the Rays had a chance to make up some ground on the division-leading Red Sox, who lost to the Tigers, 3-0. Unfortunately Archer did not get out of the fourth inning, leaving the Rays 5 1/2 games behind Boston in the standings.
Even though the Rays have lost eight of their last nine, they remain in control of the second AL Wild Card spot, but Monday's loss allowed the Orioles to creep to within two games and the Yankees to within 2 1/2.
Archer allowed five runs on nine hits en route to his sixth loss of the season. Erick Aybar delivered the knockout punch with a two-run homer in the fourth that put the Angels up, 5-1. Archer faced just one more batter, making his exit after 90 pitches.
"I didn't control the damage very well," Archer said. "Had a lot of two-strike hits. I felt really good. I just wasn't executing when I needed to."
Angels manager Mike Scioscia talked about Archer having great stuff.
"He's one of the bright young pitchers to come into our league and really pitched well in Tampa against us last week," Scioscia said. "I think some of our guys saw him, we had a couple more left-handed hitters in there, those guys had good at-bats. He just didn't look quite as crisp."
Aybar added a two-run triple off Brandon Gomes in the Angels' five-run sixth, giving him four RBIs and putting the Angels ahead, 7-2. He has eight RBIs in his last four games against the Rays.
"Aybar's really hurt us," Maddon said. "At Tropicana Field he had some good at-bats, too."
Tampa Bay's frustration to come through with runners in scoring position continued. Wil Myers personified that frustration came in the fifth when he swung through a 3-2 Garrett Richards fastball for the third out, leaving three aboard.
"We're just unable to come up with the big hit," Maddon said. "Obviously the strikeout by Wil right there, that was definitely ball four. You just do a couple of things there and that sheds an entirely different light on the scheme. But we didn't and that's been our problem. Even up in Oakland we were unable to do those things."
Ben Zobrist's home run in the first served as the only run the Rays could muster off Richards, who picked up his fifth win despite walking seven during his five-inning stint. By doing so, Richards became the third pitcher to earn a win against the Rays after walking seven or more batters. Edwin Jackson was the last to turn the trick when he walked eight during a no-hitter against his former team on June 25, 2010, while pitching for the D-backs. And Dan Wright of the White Sox walked seven against the Rays and got the win on Aug. 6, 2001.
"We just need some balls to find holes," Zobrist said. "We need the ones that are hit hard to drop. We have to get the big hit when we need it. It's hard to build momentum in a game when you're not getting anything to fall. We just need some hits to go our way."
Zobrist conceded there is a level of concern in the Rays clubhouse because it is September, but he added "there's still a lot of time left."
"We're still in a good spot," Zobrist said. "We just need to turn around tomorrow. That's the No. 1 goal. Focus on tomorrow now and get a win tomorrow and get back on the right track."
Bill Chastain is a reporter for MLB.com. This story was not subject to the approval of Major League Baseball or its clubs.