Hembree, Monell among eight Giants callups
Hembree, Monell among eight Giants callups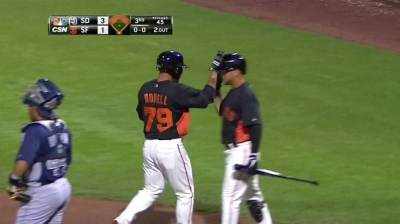 SAN DIEGO -- Giants manager Bruce Bochy announced eight September callups following Monday's game in San Diego, including a pair of additions from outside of the club's 40-man roster.
Infielders Nick Noonan and Ehire Adrianza, outfielders Francisco Peguero and Juan Perez and pitchers George Kontos and Jake Dunning were all recalled from Triple-A Fresno, which concluded its Pacific Coast League season Monday.
Righty reliever Heath Hembree and catcher Johnny Monell were also added to the big league club. With no current room available on the 40-man roster, the Giants will make a pair of moves before Tuesday night's contest to clear space for Hembree and Monell.
The 24-year-old Hembree, San Francisco's No. 6-rated prospect by MLB.com, will get a chance to make his Major League debut after he was taken by the Giants in the fifth round of the 2010 Draft. In 54 games this season, Hembree posted a 4.07 ERA and a 1.27 WHIP (walks plus hits per inning pitched), while recording 31 saves.
Best known for his high-velocity fastball, which touches the upper 90s, Hembree has reportedly improved his offspeed stuff this year. Catcher Hector Sanchez says an expanded arsenal could make Hembree very tough to hit -- even at the Major League level.
"He's not scared to throw his fastball in any count," Sanchez said. "... He has the fastball, and with the secondary pitches [working] really good, he'll be really comfortable."
Of the six players already on the 40-man roster, only Adrianza has yet to make his Major League debut. Splitting time between Double-A Richmond and Fresno this season, Adrianza hit .266 with two homers and 17 stolen bases.
"Adrianza has been at Triple-A, and he's done a good job," Bochy said. "He's a gifted defender. How much he'll play, I can't answer that, but it does give us a chance to take a look at him."
As for Monell, Bochy said the primary reasoning for calling him up was to add a third catcher in case he wants to use Sanchez as a pinch-hitter.
Noonan, Perez, Peguero, Dunning and Kontos have each spent time with the Giants already this season.
So, too, did left-hander Eric Surkamp, but the Giants opted to shut him down for the year, citing his long recovery from Tommy John surgery that lasted until midseason. Surkamp was solid for Fresno this year, posting a 7-1 record and a 2.78 ERA.
AJ Cassavell is a reporter for MLB.com. Follow him on Twitter @ajcassavell. This story was not subject to the approval of Major League Baseball or its clubs.