Offense comes through on Kershaw's off day
Offense comes through on Kershaw's off day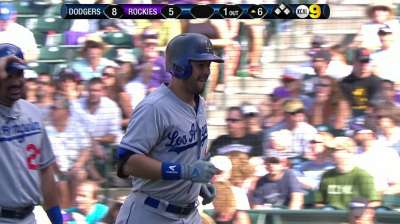 DENVER -- The ace got hit and the phenom got hurt, but the Dodgers just kept winning on Monday, holding off the persistent Rockies for a wild 10-8 Coors Field decision.
Clayton Kershaw had his worst start of the year and rookie right fielder Yasiel Puig left the game with a mild right knee strain incurred in the sixth inning during a rally that included a two-run homer by Andre Ethier, who also had a pair of doubles, drove in three runs and scored three times. He's the first Dodger ever with seven 30-doubles seasons.
"This is the difference in us between the first half and the second half," Ethier said. "We're relentless and never give up. We know we've got guys out there that when people don't perform the way we're used to them performing, others step up and fill the roles."
Juan Uribe had three hits and the Dodgers went 6-for-17 with runners in scoring position to extend their latest win streak to five games. They lead the division by 12 1/2 games, their largest margin since 1977, and the magic number to clinch the division is 14.
"It's hard to do anything with 'Dre right now," manager Don Mattingly said when asked if Ethier's center-field spot is in jeopardy when Matt Kemp returns. "He's swinging the bat great, making the plays in center field. Carl [Crawford] is swinging right now. We'll just see."
Kershaw raised his record to 14-8 but his ERA rose from 1.72 to 1.89 as he was charged with a season-high five earned runs over five innings on a career-high 11 hits. He batted better than he pitched, singling twice with a sacrifice bunt and driving in a pair of runs.
"It's always good to get a hit, especially if you're not pitching good," said Kershaw, who joined Don Drysdale (six), Don Sutton (five) and Sandy Koufax (four) as the only Dodgers pitchers with four consecutive seasons of 200 innings pitched and 200 strikeouts.
"They got a ton of hits. It was one of those days. They beat me up pretty good. Fortunately, the team picked me up. But it always feels good to get a win, regardless if you get it or the team gets it. Chalk it up to a bad start and enjoy getting a win I probably didn't deserve, and come here tomorrow ready to work."
Kershaw said he feels fine, even though his last two starts haven't been as dominating as his previous 10.
"I haven't hit a lull before," he said, "I'm not planning one now. I feel great."
The Dodgers' offense had scored only 12 runs in Kershaw's eight losses. This time, they gave him two leads that he didn't protect -- 1-0 in the first inning and 5-3 in the fifth. He allowed the first four Rockies to reach base, three of them scoring, and it was a battle pretty much the entire outing.
"I'm glad we were able to get him a win by scoring runs," said catcher A.J. Ellis. "It's fun to be on this side. I feel we owe him more than that."
The Rockies had 18 hits, went 8-for-20 with runners in scoring position and were still fighting at the end, as Wilin Rosario homered off closer Kenley Jansen leading off the ninth inning and had the potential tying run on second base when Jansen got Charlie Blackmon to ground out, securing his 18th consecutive save, 25th overall and third in as many games, guaranteeing a shutdown for Tuesday.
"I thought our approach against Kershaw was real good," said Colorado manager Walt Weiss. "I thought our effort was really, really good, we battled very well, played with a lot of energy. Our execution was a little bit short, but fought really hard."
"I'll be honest, those guys swing the bats here," Mattingly said of the Rockies, who did not start Todd Helton, Troy Tulowitzki or Dexter Fowler. "They have a lot of good-looking young hitters. Clayton's going to challenge the strike zone all the time and he'll give up hits from time to time."
The usually infallible bullpen showed a few cracks. In addition to the home run Jansen allowed, Ronald Belisario allowed two runs on four hits. But Brian Wilson, who soon could take over the eighth inning for Belisario, pitched a perfect seventh inning and hasn't allowed a run in six appearances over 4 2/3 innings.
"He's done a great job pitching to the edges," said A.J. Ellis.
The game marked the Dodgers debut of Michael Young, who struck out on three pitches as a pinch-hitter in the ninth inning after joining the club in a trade with Philadelphia for Minor League pitcher Rob Rasmussen.
Ken Gurnick is a reporter for MLB.com. This story was not subject to the approval of Major League Baseball or its clubs.