Bettis, Rockies miss chance against Dodgers
Bettis, Rockies miss chance against Dodgers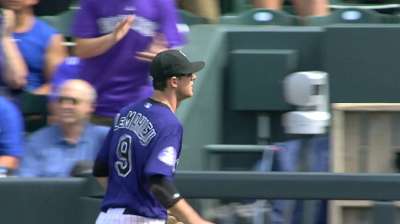 DENVER -- Chad Bettis was one good pitch away from the best start of his young Major League career. He had avoided serious trouble early and was in another jam in the fifth inning, one he wasn't able to escape in a 10-8 loss to the Dodgers at Coors Field on Monday afternoon.
With Andre Ethier on second, Bettis was up 0-2 on A.J. Ellis and eventually walked him. Next up was Dodgers third baseman Juan Uribe, and Bettis again was a strike away from ending the at-bat.
But Uribe ripped a single to right to score the game-tying run and manager Walt Weiss pulled Bettis, who was already at 105 pitches.
"One bad pitch," Bettis said. "I really wasn't as efficient as I would've liked to have been throughout the game, especially in the first inning. But I was trying to come out in the earlier innings with a little more energy."
His replacement, right-hander Jeff Manship, then surrendered a single to pitcher Clayton Kershaw that scored two more runs. Those runs fell on Bettis, who left after 4 2/3 innings, allowing five runs and walking four.
The Rockies' third loss in eight games and pushed them to 4-3 on the homestand. The Dodgers have a chance to break the Rockies' streak of three straight series victories Tuesday in the second meeting of a three-game set.
The Rockies threatened a late rally in the eighth, when Charlie Blackmon and pinch-hitter Corey Dickerson hit back-to-back doubles. Josh Rutledge roped a single through the infield to cut the Dodgers lead to 8-7, but Michael Cuddyer grounded into an inning-ending double play.
Wilin Rosario pulled the Rockies a bit closer in the ninth, walloping a solo shot -- his 21st home run of the season -- off Dodgers closer Kenley Jansen. The late comeback try wasn't enough to compensate for a bullpen that allowed four runs.
It was a missed opportunity against Dodgers ace Kershaw -- a man on the short list of the best pitchers in the National League -- who gave up a career-high 11 hits and season-high five runs and lasted just five innings.
"I thought our approach against Kershaw was real good," Weiss said. "I thought our effort was really, really good, we battled very well, played with a lot of energy. Our execution was a little bit short, but we fought really hard."
In the fifth, Jordan Pacheco shot a two-out RBI single into center that tied the game up at 5, pulling the Rockies back into a game they led for most of the first four innings. Nolan Arenado kept the inning alive before Pacheco stepped to the plate, sending a double into left-center to cut the Dodgers' lead to 5-4.
But Manship, a former starter who recently moved to the bullpen, handed the lead right back to the Dodgers in the sixth. Rookie phenom Yasiel Puig reached on an errant throw by Arenado and scored on a sacrifice fly before Andre Ethier put Los Angeles in control. With Adrian Gonzalez on first, Ethier belted a two-run homer over the visitor's scoreboard along the right-field wall for an 8-5 Dodgers lead.
"This is the difference in us between the first half and the second half," Ethier said. "We're relentless and never give up. We know we've got guys out there that when people don't perform the way we're used to them performing, others step up and fill the roles."
Kershaw (14-8) wasn't in usual form from the start, walking the leadoff batter before four of the next five Rockies collected a hit. Cuddyer's infield grounder scored Rutledge from third and Rosario plated the second run with a single to right. Arenado grounded into a double play to score Cuddyer and put Colorado up 3-1.
Arenado, who finished 2-for-5, is now hitting .383 with five doubles, 12 RBIs and 14 runs in his last 21 games at Coors Field.
"I think he was maybe just leaving the ball up a little bit," Arenado said of Kershaw, whose ERA climbed from 1.69 to 3.43 in three starts at Coors Field this year. "I think he wasn't hitting his spots entirely. … It's not really overpowering, but his stuff, everything's moving, so he's just a really tough at-bat."
Like Kershaw, Bettis dug himself into a first-inning jam. He walked leadoff batter Carl Crawford, who eventually scored on an Ethier groundout, before escaping a one-out, bases-loaded jam with minimal damage.
He said he tried to attack the Dodgers with a vengeance, determined to not get beat up early. That strategy had its downfall, however, as Bettis needed 32 pitches to make it through the first.
"I feel like my scouting report is to try to get on me early, especially in the first couple innings," Bettis said. "So I need to switch it up a little bit and try to come out with a little more energy, so that's what I did today."
Ian McCue is an associate reporter for MLB.com. This story was not subject to the approval of Major League Baseball or its clubs.