Marlins call up catcher Brantly, three pitchers
Marlins call up catcher Brantly, three pitchers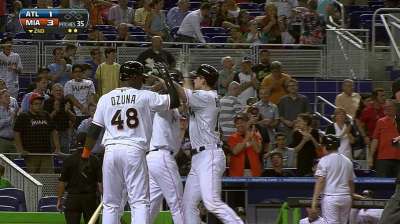 CHICAGO -- After the Marlins' 4-3 win over the Cubs on Monday, the team announced that it has recalled pitchers Arquimedes Caminero and Brad Hand, as well as catcher Rob Brantly from Triple-A New Orleans. The club has also selected the contract of left-hander Brian Flynn.
Caminero, 26, appeared in four games for the Marlins from Aug. 16-28, posting a 2.25 ERA (one earned run in four innings pitched). In 43 appearances between Double-A Jacksonville (42) and Triple-A New Orleans (1), the right-hander went 6-2 with a 3.48 ERA (21 earned runs in 54 1/3 innings pitched).
Hand, 23, pitched 1 2/3 innings for the Marlins on May 1, walking two batters without yielding a run. In 15 starts for Triple-A New Orleans, the left-hander was 3-5 with a 3.42 ERA (31 earned runs in 81 2/3 innings pitched).
Flynn, 23 -- who the team announced will be Wednesday's starter in the series finale against the Cubs -- went 7-12 with a 2.63 ERA (47 earned runs in 161 innings pitched) between Double-A Jacksonville and Triple-A New Orleans.
Brantly, 24, hit .186 (13-for-70) in 20 games for New Orleans.
Manny Randhawa is an associate reporter for MLB.com. Follow him on Twitter at @MannyBal9. This story was not subject to the approval of Major League Baseball or its clubs.