Astros fall after allowing late grand slam vs. Twins
Astros fall after allowing late grand slam vs. Twins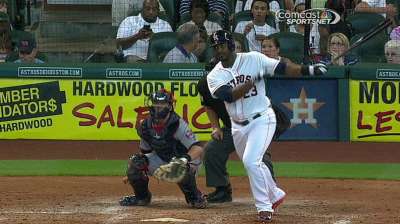 HOUSTON -- After being able to relax Sunday because starting pitcher Brett Oberholtzer tossed the team's first complete game of the season, Astros relievers were asked to carry the bulk of the load Monday afternoon when starter Paul Clemens couldn't survive the fourth inning.
The bullpen wasn't up to the challenge and watched an early four-run lead slip away before first baseman Chris Colabello finished off the Astros with a ninth-inning grand slam off Chia-Jen Lo to send the Twins to a 10-6 win at Minute Maid Park.
The loss was in the sixth in the last seven games for the Astros, who blew their 26th save of the season when Josh Fields walked the leadoff hitter in the eighth and watched him score the tying run.
"Offensively, we swung the bats well early and could not get anything going after that," Astros manager Bo Porter said. "Their bullpen did a good job of holding it right there and giving their offense a chance for the late-inning rally they put together."
Twins relievers held the Astros to four hits and one run in 7 1/3 innings, with Anthony Swarzak throwing 4 1/3 innings in relief in the second-longest outing of his career. The Astros had nine hits through two innings and four the rest of the way.
"Obviously, we got off to a quick start, but it just shows you how important it is to keep piling on," Astros outfielder Trevor Crowe said. "In baseball, you never know. Especially with our bullpen struggling lately, the ability is there, but the youth sometimes comes out a little bit. When we get those opportunities offensively we have to keep adding runs."
It's didn't help the Astros' offensive cause when All-Star catcher Jason Castro left the game in the second inning with a sprained right knee after going 2-for-2 with two RBIs. The Astros will know more about his condition on Tuesday.
The game wasn't played very crisply on either sides. The Astros committed two errors and walked nine Twins batters, four of which scored. Lo walked a pair of batters with two outs in the ninth to load the base for Colabello, who crushed the first pitch he saw and sent it into the Astros bullpen in right-center field for his second homer of the game.
Trevor Plouffe and Brian Dozier also homered for the Twins.
"It's tough to play from behind, especially in the big leagues," Colabello said. "The thing you have to do is scratch and claw and battle, and I think we did today. Today was a team win. It was a character win. I know the hit I got in the ninth will probably stand out, but that doesn't happen without a bunch of guys having a bunch of great at-bats before me."
Lo (0-3) has allowed seven earned runs in 4 2/3 innings in his last five appearances after beginning his Major League career with seven consecutive scoreless outings.
With one out in the ninth, Dozier reached on an infield single and advanced to second when shortstop Jonathan Villar threw the ball away. Lo struck out Josh Willingham for the second out before walking Doug Bernier and Chris Herrmann to set the table for Colabello.
"Solo home runs normally don't beat you, but when you have an error and two walks and then give up a home run, grand slams will beat you," Porter said.
The Astros staked Clemens to a 5-1 lead through two innings against Twins starter Andrew Albers. Nine of the Astros' first 12 batters in the game reached base via hits with Castro, Chris Carter and Crowe coming through with RBI singles for a 3-0 lead in the first. Castro and Carter came through with RBI hits again in the second to make it 5-1.
The Twins slowly chipped away against Clemens, getting a two-out RBI double by Darin Mastroianni in the third. Colabello homered in the fourth to trim the lead to 6-3, and Clemens gave up an unearned run on a single by Pedro Florimon later in the inning.
"Any time you lose, it's frustrating," Clemens said. "This one's got a little sour taste because I'm trying to be myself. Tip my cap to those guys because they put some swings on pitches, but if I'm ahead in counts and do what got me here and do what I'm capable of doing, things are different. It's a learning process."
Dozier led off the fifth inning with his 16th homer -- a club record for second basemen -- into the Crawford Boxes off Lucas Harrell that cut the Astros' lead to 6-5.
Astros reliever Kevin Chapman set a club record by not allowing an earned run in his 13th consecutive appearance to start the season, though he was credited with a blown save for allowing the runner he inherited in the eighth to score.
Good news for the Astros? Jose Altuve tied a career high in hits by going 4-for-5 and putting him on an 8-for-13 surge (.615) in his last three games.
"I think he's coming around," Porter said. "You look at his track record and this guy has hit every season, and I didn't think for one minute he would stay in his funk the rest of the season. He's starting to swing the bat the way we're used to him swinging the bat."
Brian McTaggart is a reporter for MLB.com and writes an MLBlog, Tag's Lines. Follow @brianmctaggart on Twitter. This story was not subject to the approval of Major League Baseball or its clubs.