Colabello's go-ahead grand slam lifts Twins in ninth
Colabello's go-ahead grand slam lifts Twins in ninth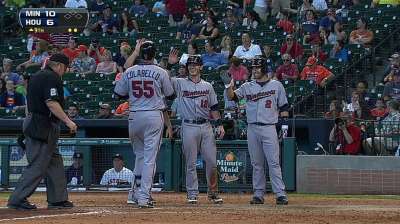 HOUSTON -- It was somewhat fitting that the Twins and Astros played this type of game on a national holiday honoring a hard day's work. This three-and-a-half-hour affair was nothing short of laborious and pain-staking, where there was no such thing as an easy out and no lead -- until the ninth, that is -- was safe.
In the end, the Twins prevailed, 10-6, in a Labor Day matinee at Minute Maid Park. The score would indicate this one wasn't close, but that would be incorrect. Until Chris Colabello sent a Chia-Jen Lo offering into the Astros' bullpen in right-center for a tie-breaking grand slam, neither team was in command.
"It's Labor Day, and we really labored today, both teams," Twins manager Ron Gardenhire said. "I think both teams went through their struggles out there. We did for sure. Missed a lot of plays, not covering bases, baserunning mistakes -- but ultimately in the end the guys kept playing and battling. And we battled and battled and finally got a win."
Lo logged two strikeouts during that frame, but control issues would wind up being the difference maker. Trevor Plouffe and Chris Herrmann drew two-out walks, loading the bases for Colabello, whose grand slam was his fifth long ball this year.
Until that moment, nothing was easy for the Twins. By the second inning, they were down, 5-1. The bullpen had to absorb the bulk of the work after starter Andrew Albers lasted just 1 2/3 frames. They had baserunning blunders that earlier looked as if they would cost them the game.
But one mighty opposite-field swing from Colabello, who has been up and down between Triple-A and the big leagues several times and is in a constant state of attempting to prove his worth in this lineup, allowed the Twins dugout to breathe a little easier.
Actually, it was his second mighty swing in the game. Colabello also homered in the fourth, which put the Twins on the comeback trail in earnest.
"It's tough to play from behind, especially in the big leagues," Colabello said. "The thing you have to do is scratch and claw and battle, and I think we did today. Today was a team win. It was a character win. I know the hit I got in the ninth will probably stand out, but that doesn't happen without a bunch of guys having a bunch of great at-bats before me."
By contrast, the fifth inning was interesting, and not for the right reasons. The Twins extended an unintentional favor to Houston right-hander Lucas Harrell, who since being moved from the rotation almost two months ago has had little success as a relief pitcher. Harrell yielded a leadoff home run to Brian Dozier and walked Josh Willingham before giving up base hits to Plouffe and Herrmann. On its face, this seemed like a perfect opportunity to turn a one-run deficit into at, the very minimum, a tie game.
But Willingham inexplicably stopped halfway between third and home and was soon erased in a rundown that seemingly didn't last quite long enough for the other two runners to figure out what base they should be standing on. Instead, Plouffe and Herrmann both migrated to second, setting up a relatively easy -- albeit confusing -- double play when Houston catcher Cody Clark threw to third baseman Matt Dominguez to nab Herrmann for the second out.
"Do you see an explanation? Do you feel there could be an explanation?" Gardenhire said. "There was a cluster. You can put any other word you want behind it. We'll leave it at that."
"Cluster" was uttered a couple of more times when it was the players' turn to explain.
Willingham said third-base coach Joe Vavra was waving him home but threw his hands up, indicating a stop sign, at the last minute. He stopped in the middle, where he was too far to retreat back to third and not close enough to home to score.
"In hindsight, I probably shouldn't have stopped because I was too far down the line," Willingham said. "It was sort of both of our faults. I think it was my fault because when he was waving me, I didn't pick him back up. The stop sign was up probably a good 10 feet before I saw it. But once I saw him waving me aggressively, that sort of gets in your mind that you're going to try and score. I kind of put my head down. You have to keep it up. He was stopping me and I saw it late."
Said Herrmann: "Josh got held up at third base, now he's going home. Then I saw Trevor take off to third base, so I took off to second base and Trevor came back to second base. So it was just all kinds of confusion. We could have easily scored some runs that inning. We just made some bad baserunning choices by me. I felt like maybe Willingham could have scored on that ball and it was just kind of a mess. Just bad baserunning."
Ineffectiveness from the starting pitchers on both sides put the game in the hands of the bullpens. Righty Anthony Swarzak had a starter-type line, turning in 4 1/3 solid innings, allowing one run on three hits with two walks and five strikeouts. He entered the game with two outs in the second after lefty Albers allowed five runs on nine hits in his shortest outing of the season.
"Fortunately today Swarzak came in and really picked me up and the offense, and was outstanding today and it makes you feel a little bit better about it," Albers said. "But at the same time, you've got to be better."
On this day, the Twins were just good enough. And that proved to be the difference.
Alyson Footer is a national correspondent for MLB.com. Follow her on Twitter @alysonfooter. This story was not subject to the approval of Major League Baseball or its clubs.