Zito loses in San Diego, remains winless on road
Zito loses in San Diego, remains winless on road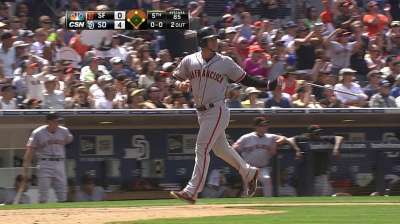 SAN DIEGO -- Barry Zito joined some exclusive company Monday afternoon, and it wasn't the company he -- or the Giants -- would like to keep.
The veteran left-hander picked up the loss in a 4-1 Labor Day defeat in San Diego, making him the first pitcher since Omar Daal in 2000 to start a season by losing nine straight road decisions. Only 35 other pitchers in history have done so, including just six in the last 30 years.
"It's hard to narrow it down to one thing," said Zito, who lasted just four innings and surrendered four runs. "It just seems like I've been having tough games on the road, consistently through the year. Normally the splits don't really lean that hard in one direction."
With Matt Cain set to return Saturday, Zito wouldn't seem to fit well into the Giants' rotation the rest of the way, barring an injury or a spot start.
Giants manager Bruce Bochy lamented Zito's struggles this year, the last on his seven-year contract.
"He's such a good teammate and of course what he did last year -- it's been a tough ride," Bochy said. "... I know the results haven't been good, but he's all-in on how he prepares, his effort. It just doesn't want to go for him, particularly on the road."
Zito's struggles away from AT&T Park this season have been well-documented, and Monday's start brought his road ERA to 9.23 and his road WHIP (walks plus hits per inning pitched) to an equally woeful 2.25. His home splits are actually pretty solid: 4-2, 3.58 ERA, 1.39 WHIP.
"I'm still fighting every day," Zito said. "This game, the highs are super high and the lows are very low. That's why we love it."
The Padres got to Zito in the top of the second inning, aided by consecutive walks with one out. Zito retired the next man, Nick Hundley, on a sharp line drive, but Ronny Cedeno made Zito pay for his early lack of control with an RBI single.
Just when it appeared Zito would get out of the inning with minimal damage, he walked opposing pitcher Ian Kennedy to load the bases. Padres right fielder Chris Denorfia followed by belting a letter-high fastball to right field for a single, scoring a pair and giving San Diego an early 3-0 edge.
"Three walks, and he gave up three runs," Bochy said. "He just had trouble finding the strike zone there. He was one pitch away from getting away from it."
Hundley added to that lead in the fourth, crushing a cutter that Zito left over the plate into the Padres' bullpen for his 11th homer. Zito was removed for a pinch-hitter after the frame.
The Giants' bullpen followed with a phenomenal effort, as Guillermo Moscoso and Jean Machi each tossed two no-hit innings. They'll be understandably overlooked, given Zito's continued struggles, however.
"The bullpen did a great job," Bochy said. "It really stepped up and gave us a chance."
The Giants threatened a bit in the top of the fourth, when both Buster Posey and Pablo Sandoval reached on singles. With two outs, Brandon Crawford lined a rocket to center field but it was right at San Diego's Will Venable, who made the catch to end the rally.
San Francisco got on the board an inning later, but left two men on base again. Brandon Belt's RBI double plated Gregor Blanco, but Posey hit a sharp liner to third base to end the frame.
"We've been like this all season," Blanco said. "It's part of baseball, though. Sometimes it's hard, it's tough. But at the same time that's all we can do. Just hit it hard, and hope it finds a hole."
AJ Cassavell is a reporter for MLB.com. Follow him on Twitter @ajcassavell. This story was not subject to the approval of Major League Baseball or its clubs.