McCarthy goes distance, but bats lag vs. Rogers
McCarthy goes distance, but bats lag vs. Rogers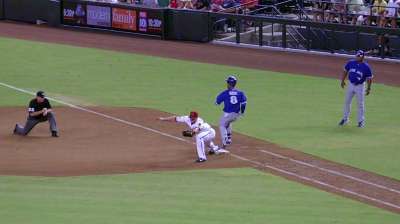 PHOENIX -- D-backs manager Kirk Gibson watched as Esmil Rogers set the D-backs hitters down one by one, inning after inning, en route to the Blue Jays' 4-1 win Monday afternoon at Chase Field.
Finally, after the game, the manager's disappointment came out.
"We just didn't hit," Gibson said. "Nine out of 11 first pitches put in play were ground balls. Didn't make an adjustment. Obviously he was throwing the ball low in the zone. You've got to wait him out. You've got to get some pitches on his arm and make him get to where he's elevating the ball a little bit."
Take nothing away from Rogers, who has always had good stuff, but he did enter the game with a 5.03 ERA this year and a 5.65 mark for his career.
"I got a lot of ground balls today," Rogers said. "I was pounding the zone and attacking everybody. If you throw a first-pitch strike, you can do whatever you want. I didn't throw too many high pitches; I just tried to stay down in the zone. If they swing at those, it's going to be on the ground."
Rogers (4-7) allowed just one hit and a walk while striking out five before Toronto manager John Gibbons removed him with one out in the seventh.
"You saw how quickly Gibbons took him out," Gibson said. "He hasn't thrown the ball that well. He threw a good game today. I think when you've got a guy going like that, you've got to try and make an adjustment on him, and we didn't do that. The offense on this homestand has not been good. You'd have to ask them; I'm not sure why."
During this homestand, the D-backs have lost to unheralded starters like the Padres' Robbie Erlin and the Giants' Yusmeiro Petit, and after a while it gets tougher to identify who deserves the credit.
"Everybody's that damn good?" Gibson said. "C'mon. Everybody isn't Cy Young, and sometimes you've got to beat Cy Young. You've got to figure out a way to do it. That part's disappointing."
The D-backs' best scoring chance against Rogers came in the seventh, when Tony Campana led off with a walk and promptly stole second.
Rogers then struck out Adam Eaton, and Gibbons brought in Sergio Santos to face Paul Goldschmidt. Santos walked Goldschmidt, but the D-backs were unable to capitalize, as Eric Chavez bounced into an inning-ending double play.
"I think we had some decent at-bats," Goldschmidt said. "We just couldn't get anything going. [Rogers] got ahead and was keeping the ball down and throwing strikes, mixing up his pitches. I'm sure guys were trying to make adjustments and trying to have good at-bats; we just really as a team didn't get enough going to even really have any opportunities there until the last few innings."
The D-backs did manage a run in the bottom of the ninth, but it was too little too late.
The lack of offense made for a tough day for Arizona starter Brandon McCarthy (3-9).
McCarthy was outstanding for seven of nine innings he pitched, as he allowed two runs in the second and two in the ninth, the latter on a homer by Edwin Encarnacion.
With one out in the second, Moises Sierra doubled to center and scored one out later on Kevin Pillar's jam-shot single to left.
While Pillar's hit had some good fortune attached to it, Anthony Gose's triple that followed did not. Gose blasted the pitch off the batter's eye in center for an RBI triple as the Blue Jays went up by 2-0.
"I threw about four or five bad pitches today," McCarthy said. "Any mistakes I did make, they capitalized on."
After the second, McCarthy settled down and at one point set down 16 in a row, until the ninth, when Encarnacion hit a first-pitch fastball into the left-field seats for a two-run homer.
"He had been throwing me first-pitch fastballs, and I had been taking them," Encarnacion said. "Right there, I tried to be more aggressive."
With the loss, the D-backs fell to seven games in back of the Reds in the race for the second National League Wild Card.
Steve Gilbert is a reporter for MLB.com. Read his blog, Inside the D-backs, and follow him on Twitter @SteveGilbertMLB. This story was not subject to the approval of Major League Baseball or its clubs.