Phils rally past Nats with two-run eighth
Phils rally past Nats with two-run eighth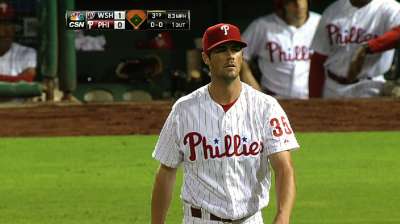 PHILADELPHIA -- As Cole Hamels warmed up before Monday night's game at Citizens Bank Park against the Nationals, something wasn't right.
Nothing specific, but he was missing a certain crispness. Nothing physical according to Phillies interim manager Ryne Sandberg, just something seemed off.
In a game that featured a pair of very good starts from aces Hamels and Washington's Stephen Strasburg, it was the bullpens that figured prominently in a 3-2 win for the Phillies. Jimmy Rollins went 1-for-3 with a walk and scored two runs, including the game-winner, and Carlos Ruiz had a pair of RBIs as the Phillies took the first game of this three-game series in South Philadelphia.
"Can he feel that way all the time?" Rollins said of Hamels. "He was nasty tonight. That changeup was as nasty or the second best it's been all season long. He hit his spots and he hit every pitch where he wanted to."
Down 2-1, Nationals reliever Tyler Clippard entered the game to start the eighth. After he got two outs, he surrendered a walk to Cesar Hernandez, who broke for second as Rollins doubled off the wall in right-center to tie the game at 2. An intentional walk to Chase Utley brought Ruiz to the plate.
Ruiz hit a ground ball through the left side and Rollins took off without hesitation and narrowly beat the throw from Bryce Harper for a 3-2 lead.
"It actually started before that with Cesar having a good at-bat," Rollins said. "That gave us a chance. We had to start from ground zero in the [eighth] inning. We were hoping to put some at-bats together and it worked out."
Strasburg's night came to a premature end due to an inflated pitch count that reached 100 in six innings before he gave way to reliever Drew Storen. Hamels, meanwhile, reached 86 pitches -- 69 of which were strikes -- in seven innings before Justin DeFratus took over for him in the eighth.
"He warmed up, we had an eye on him, he didn't warm up real well in the bullpen," Sandberg said of Hamels. "So, we were just waiting to see what we were going to get from him tonight. What it was was pretty good. At that point, we felt that he did his job, velocity was down a little bit in that inning, but still quality.
"No other issue than that. We felt he did his job out there and we had fresh arms in the bullpen."
Still, it was hard to imagine Hamels didn't want to stay in a game he had so clearly dominated, but on this night it appeared that he, Sandberg and pitching coach Rich Dubee were all on the same page.
"Sometimes, later in the year, it's harder to get loose," Hamels said. "You want to make things count and not overdo it. I tried to go as deep as I possibly could. I wasn't trying to overextend myself. I felt good doing it.
"I guess we didn't get into a fist fight. I trust his judgment. It's late in the season. Innings and pitches add up. I want to get another five starts in. It'll be nice to have that extra day off and being at home for getting the nice type of care and facilities here will help."
DeFratus recorded the first out, but gave up a single to left-center by Anthony Rendon and then walked Chad Tracy. DeFratus was lifted for Cesar Jimenez, who walked Harper to load the bases and then gave up a sacrifice fly to Scott Hairston to give the Nationals a 2-1 lead.
Holding a 1-0 early lead, Strasburg dominated the Phillies through the first three innings as he allowed just one walk and struck out six. A leadoff walk in the fourth to Rollins haunted him moments later.
In the oddest moment of the night, catcher Wilson Ramos tried to pick Rollins off of first with left-handed hitting Utley at the plate. Ramos' throw hit Utley's bat and went to the backstop, which allowed Rollins to move to second on an error. After Utley struck out, Strasburg's lack of attention toward Rollins allowed the Phillies shortstop to take off for third and a broken-bat single by Ruiz into center opened the door for Rollins to score from second and tie the game at 1.
Jonathan Papelbon got into trouble in the ninth, putting runners at first and third with one out, but struck out Ramos and Rendon for his 24th save.
Michael Radano is a contributor to MLB.com. This story was not subject to the approval of Major League Baseball or its clubs.