Stras dominant, but Clippard falters in loss to Phils
Stras dominant, but Clippard falters in loss to Phils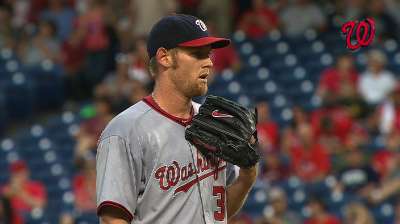 PHILADELPHIA -- The Nationals lost ground in the National League Wild Card race. Carlos Ruiz's eighth-inning RBI single helped the Phillies edge the Nationals, 3-2, at Citizens Bank Park on Monday night.
With the loss, the Nationals are now 7 1/2 games behind the Reds for the second and final Wild Card spot. The Reds pounded the Cardinals, 7-2, at Great American Ball Park on Monday afternoon.
"We have to keep fighting for the rest of the season and try to make the playoffs. That's what we are trying to do right now," catcher Wilson Ramos said. "I don't like to put my head down. I try to put my head up every time, go out there and try to win the game."
Washington had a 2-1 lead when Philadelphia scored two runs against setup man Tyler Clippard in the eighth inning. After getting two quick outs, Clippard was ahead in the count to Cesar Hernandez, but Clippard put him on base with a walk.
"That was the biggest mistake in the inning, not going after him," Clippard said. "I felt I made a good pitch, 3-2. It was obviously down. I didn't challenge him like I should have. I got ahead of him. I didn't put him away and that was difference."
Jimmy Rollins was the next hitter and battled Clippard. After seven pitches, Rollins doubled to right-center field, scoring Hernandez to tie the score at 2.
After walking Chase Utley intentionally to put runners on first and second, Ruiz singled to left field. Left fielder Bryce Harper made a strong throw to the plate, but Rollins adjusted his slide, beat the throw and scored the go-ahead run.
"It was close," Ramos said. The throw was a little [in front of the plate], but it's not perfect. It happens in the game."
Rollins credited Hernandez for starting the rally with the two-out walk.
"It actually started before [the double] with Cesar having a good at-bat," Rollins said. "That gave us a chance. We had to start from ground zero in the [eighth] inning. We were hoping to put some at-bats together and it worked out."
The Nationals had a chance to tie the score in the ninth off closer Jonathan Papelbon. They had runners on first and third with one out, but Ramos and Anthony Rendon struck out to end the threat.
"The [umpire] behind the catcher, they call a ball a strike," Ramos said. "That moment, that pitch for me was a ball. They called it a strike. We can do nothing. If it's a strike, it's strike. If it's a ball, it's a ball."
Phillies left-hander Cole Hamels was dominant, lasting seven innings, allowing one run on two hits, striking out eight. The Nationals scored their only run off Hamels in the first inning when Ryan Zimmerman swung at an 0-2 pitch and hit a solo home run over the left-center-field wall. It was Zimmerman's 16th homer.
Right-hander Stephen Strasburg started for Washington, but he didn't figure in the decision. He lasted six innings, allowed an unearned run on two hits and struck out 10 batters. It marked the 11th time in his career that he has struck out at least 10 batters in a game.
However, Strasburg had a tough time gripping the ball. It didn't help that his hand was sweaty due to the humidity. The only pitch he could control was his curveball. By the sixth inning, he was tired and left the game after 100 pitches.
"It was tough, obviously, with the humidity and you sweat a lot out there. So, it was tough getting a grip. It affected my ability to have some quick innings," Strasburg said. "With the way the game was going, I really didn't have many quick innings or anything. I was definitely feeling it in the end. It was tough."
The Phillies tied the score at 1 in the fourth. After Rollins walked to start the frame, Ramos tried to pick off Rollins at first base. However, the ball hit Utley's bat and allowed Rollins to advance to second. Ramos admitted that Utley did not interfere on the play because he was in the batters' box.
"I was trying to get that guy out at first base. It hit his bat. It doesn't happen a lot of times. It happened today," Ramos said.
Rollins was trying to steal third base when Ruiz hit a broken-bat single to center, allowing Rollins to score easily.
Washington scored the go-ahead run in the top of the eighth against left-hander Cesar Jimenez. The bases were loaded with one out when Scott Hairston hit a sacrifice fly to center fielder Hernandez, scoring Rendon.
Bill Ladson is a reporter for MLB.com and writes an MLBlog, All Nats All the time. He also could be found on Twitter @WashingNats. This story was not subject to the approval of Major League Baseball or its clubs.