With bang-bang play, A's regain share of first
With bang-bang play, A's regain share of first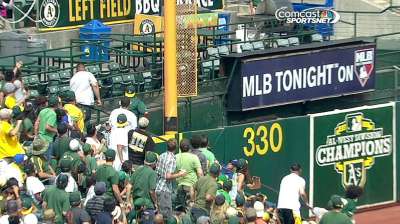 OAKLAND -- Following a 4-2 series-opening victory over the Rangers on Monday, the A's entered into a tie with Texas for the division lead in the wild, wild West, the clubs boasting identical records after 137 games.
Now, over the next 25 games, spanning 27 days, the A's and Rangers figure to make September feel like October.
Let the season begin.
"Both teams are fairly evenly matched," said Texas' Lance Berkman. "I don't think either team is going to run away with it in the last 25 games. It's going to go down the wire and today they just beat us."
"There's plenty of baseball to go," said Grant Balfour, who picked up his 36th save. "Today's one game. It was a big game, no doubt. But there are still 20-something games to go, so we're not sitting here celebrating."
The A's waited until Game 162 to do that last year, having played catch-up not just all of September but all of the season. They were three games back of the Rangers on this day last year, a deficit that would expand to five games before it vanished on that final day.
Two games are left to be played in this three-game set, before the two clubs meet again in Texas later in the month for three more. The rolling A's, a season-high 21 games over .500, have won eight of their last 10 after dropping 13 of their previous 21. Texas has lost three of four.
"We knew coming into this month that we had six games against the Rangers," said Dan Straily. "We got to take care of business here and take care of business the rest of the month, too."
Straily kept the Rangers in check, getting through four scoreless frames before laboring in the fifth, when he offered up a game-tying, two-run homer to David Murphy.
Just a few minutes and even fewer inches later, Coco Crisp untied it with his own two-run homer off Rangers lefty Derek Holland that hit off the bottom of the left-field foul pole.
It was under review for several minutes, before crew chief Tom Hallion confirmed it to be a long ball, Crisp's third in as many days and seventh in his last 12 games, giving him a career high of 17.
One inning later, Crisp would foul a ball off his right leg, leading to a shin contusion and an exit from the game, but the injury is not thought to be serious. Crisp simply said he was "fine."
"He fouled that ball pretty hard off his knee," said catcher Kurt Suzuki, "so I'm sure he has a pretty big bruise, but knowing Coco he'll be fine. We definitely need him, that's for sure.
"I've seen him do this many times, maybe not homer as many times. When he goes, our team goes. He's an important part of our team."
Added Brett Anderson: "It's exciting. He's the table-setter. He eats the food, too. He's done it all."
Yoenis Cespedes also went deep, a second-inning shot to left field that marked his third homer off Holland in 12 career at-bats. Cespedes had gone 10-for-50 with 16 strikeouts over his previous 12 games, and he hit .216 in August, the worst month of his career.
The A's have gotten by without consistent production from their left fielder, who is batting .231 with 21 homers, but they also know how significant of an impact he could make down the stretch if he can keep going. Monday solidified his first back-to-back multihit games since the end of July.
"We'd like to certainly see more of that," said manager Bob Melvin. "He's a guy we revolve around in the lineup and now he's got 20-plus homers, which in a bad year, it's not awful."
The A's have homered in a season-high 15 consecutive contests, and they're averaging more than five runs over the last 25 games. They averaged just 3.13 in their previous 23 games, marking an improved offensive showing to go along with typically solid pitching.
Following Straily's departure, the A's bullpen combined for four shutout innings, stranding seven baserunners along the way. The Rangers left a total of 11 on base on the day, going 0-for-9 with runners in scoring position.
Balfour boarded two in the ninth before getting his first out, a sharp grounder to first base from Jurickson Profar that moved the runners to second and third. That's where they would stay, as Ian Kinsler lined out to right field, and Adrian Beltre put the game to rest with a grounder to third.
Balfour admitted he was without his best stuff, but "you always have to have that mental edge," he said.
"There are great teams out there, but if we don't feel like we're the best, someone else is going to feel like they are," he continued. "Sometimes that's what it takes, that little bit of an edge, to get you on top."
"Sometimes you have to find a little extra will," Melvin said. "In games like this, a high-intensity game, it felt like that the whole game, especially at the end. You end up putting yourself in a position where you have no room and you have to make a pitch, and you just have to find that extra gear. We were able to do it enough to get out of the game and come away with a win."
Jane Lee is a reporter for MLB.com. This story was not subject to the approval of Major League Baseball or its clubs.