Anything but crisp, Rangers fall into tie for first
Anything but crisp, Rangers fall into tie for first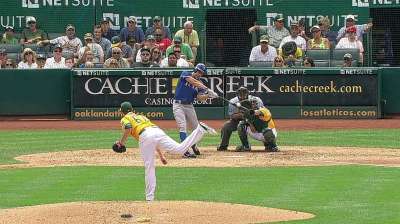 OAKLAND -- Rangers starter Derek Holland called it a "terrible" performance. He was referring to his pitching, not the mistakes the Rangers made in the field or their complete inability to hit with runners in scoring position.
Holland ended up the losing pitcher, but there were multiple factors involved in the Rangers' 4-2 loss to the Athletics on Monday afternoon at O.co Coliseum. Two errors were costly and the Rangers were 0-for-9 with runners in scoring position on a day when they dropped back into a tie for first place with the Athletics in the American League West.
The Rangers had nine baserunners in the last four innings and failed to bring any of them home. Twice they had a runner at third base with one out and failed to get a run out of it.
"Of course we want to be better in those situations," third baseman Adrian Beltre said. "The last few games haven't gone well, so tomorrow we have to come back and do better. We're playing OK, but we're not playing our best baseball. But we're tied for first, so we'll take our chances. Our destiny is in our hands, so we'll see what happens."
The Rangers have scored just two runs in each of the last four games. They are also 1-for-24 with runners in scoring position in those four games while losing three of them.
"It was just one of those games. We made a few mistakes and they capitalized it," designated hitter Lance Berkman said, after playing his first game since July 6. "Both teams are fairly evenly matched. I don't think either team is going to run away with it in the last 25 games. It's going to go down the wire and today they just beat us."
Outfielder David Murphy, who has been told by manager Ron Washington to pick up his offensive game or start losing playing time, delivered the only Rangers runs with a two-run homer in the fifth. That made it 2-2, but Coco Crisp delivered the decisive blow for the Athletics with a two-run home run in the bottom of the inning off Holland. Crisp, batting with a runner on and nobody out, hit a high fly down the left-field line that cleared the fence right at the base of the foul pole. It was ruled a home run and the call was upheld by a replay review.
"I saw it go foul, but afterwards one of our guys told me it nicked the foul pole," Washington said.
Holland allowed four runs in 4 2/3 innings and is now 1-3 with a 3.05 ERA in his last nine starts since the All-Star break. He allowed five hits but was most upset with five walks.
"It was just a terrible performance ... flat out," Holland said. "Five walks is not acceptable. There's no reason for that. I didn't execute my pitches. I fell behind and walked people. You can't defend walks. It was all-around terrible. Today was on me."
The defense didn't help. After Yoenis Cespedes gave the Athletics a 1-0 lead with a home run to start the second, Holland gave up a one-out double to Alberto Callaspo and a single up the middle to Chris Young.
Athletics third-base coach Mike Gallego was willing to challenge center fielder Leonys Martin by sending home Callaspo. Martin had a real shot at Callaspo but let the ball get past him as he tried to scoop it up on the run. Callaspo scored easily. Young was also thrown out trying to score as well, but Martin felt Callaspo would have been the one had he fielded the ball cleanly.
"He wasn't at third base from what I could tell," Martin said. "If I catch the ball, I would have had him at home plate."
Crisp's home run came after Michael Choice, making his Major League debut, reached on Beltre's throwing error. It was Beltre's first error at third base since July 25.
"A loss is a loss, but the tough part is we didn't quite play our character of baseball today," Murphy said.
Athletics starter Dan Straily left with a two-run lead after five innings and the Rangers couldn't score against the Oakland bullpen despite having baserunners on in every inning. Beltre led off the sixth with a single off Dan Otero and a one-out single by Alex Rios and a walk to Mitch Moreland loaded the bases. But Berkman lined out hard to right field and Murphy grounded out to second to end the inning.
Beltre said afterward he should have tagged up and scored on Berkman's fly ball. Young, the Athletics right fielder, had to come in to catch the ball but was still at medium depth when he did.
"When I first saw the ball, I didn't think he was going to catch it," Beltre said. "It was probably deep enough to tag up, but I didn't want him to short-hop it and throw me out at home plate. The right call would have been to tag up and score."
That would have made it a one-run game and might have made a difference, especially in the ninth inning. Murphy led off with a walk against Athletics closer Grant Balfour, Martin singled to center and Jurickson Profar moved both runners up with a grounder to first. But Ian Kinsler popped to right and Beltre grounded out to third to end the game.
"They can play, we can play," Washington said. "It's a game of opportunities and we didn't take advantage of them. We're not going anywhere. We're not going any place. We're right here in Oakland and tomorrow we'll show up and play."
T.R. Sullivan is a reporter for MLB.com. Read his blog, Postcards from Elysian Fields, and follow him on Twitter @Sullivan_Ranger. This story was not subject to the approval of Major League Baseball or its clubs.