Arenado entering Gold Glove talk as rookie
Arenado entering Gold Glove talk as rookie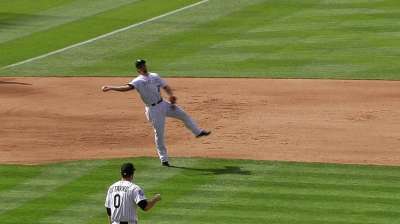 DENVER -- To think that Rockies rookie Nolan Arenado thought his glove would delay his route to the Major Leagues.
"I thought they were going to be hesitant to bring me up because of my defense," Arenado said. "I thought they'd say, 'This guy is a good third baseman but he makes some errors.'"
With a month to go in the season, there is a good shot that Arenado's glove could turn gold. Even though he wasn't called up until April 28, Arenado has drawn raves and posted numbers that could make him the first rookie to win a National League Rawlings Gold Glove Award.
The defensive plays have been sparkling. Any search of video will back that statement. If you prefer numbers over the eye test, he still looks good. His "range factor," a formula under which putouts and assists are divided by the number of games participated in, was an NL-leading 3.19 going into Monday afternoon's game against the Dodgers, with the Mets' David Wright second at 2.90.
Arenado's. 978 fielding average in 111 games was fourth, behind the Marlins' Placido Polanco (.988), the Dodgers' Juan Uribe (.987) and the D-backs' Martin Prado (.978). However, Arenado had more chances (362) than every third baseman but the Pirates' Pedro Alvarez (384 in 124 games). Of the players ahead of him in fielding percentage, Prado had the most chances at 243.
In the category of defensive Wins Above Replacement (dWAR), Arenado is at 3.6, which is first in the NL according to the stats calculated by ESPN, and second to the Braves' Andrelton Simmons according to Baseball-Reference.com.
Gold Glove Award voting is up to managers and coaches in each league. Managers aren't allowed to vote for their own players, but stating an opinion is well within bounds.
"You hate to overstate things, but it's hard for me to remember a third baseman having a better year than Arenado's had defensively," Rockies manager Walt Weiss said. "I don't think you can play any better than he has defensively. He's been stellar.
"He plays with a lot of confidence for a young player and obviously the skill set is very impressive. He's got tremendous hands, great feet when he gets around the ball, a really strong arm and he plays with no fear at a very difficult position."
When the Rockies selected Arenado in the second round of the 2009 First-Year Player Draft out of El Toro High in Lake Forest, Calif., it was for his bat. Scouts from several teams thought he might have to move to catcher. But he developed quickness around the bag, and it's showing. Reds manager Dusty Baker, whose contending team dropped two of three last weekend at Coors Field, saw enough of Arenado.
"This guy made three or four good plays -- he made a play a day," Baker said. "I passed him in the hallway out here. He's pretty stout and big for a third baseman. For a guy that doesn't have much speed, he has a lot of quickness."
Arenado hit 49 home runs and hit .299 in 432 Minor League games. In the Majors, he entered Monday hitting .269 with 10 home runs and 46 RBIs. The production hasn't been consistent, but he has had 13 go-ahead and eight game-winning RBIs. Those stats are important in Gold Glove consideration because history has shown that managers and coaches gravitate toward offensive players even though it's a defensive award.
Arenado said he is just beginning to let himself think of the top defensive honor at his position.
"When I was in the Minors, I never thought about the Gold Glove," Arenado said. "I thought I could be a good defensive third baseman. I never thought I was going to be up there with some of the guys people are putting me up there with. I never put myself up there, but to hear that people are doing it is special."
Thomas Harding is a reporter for MLB.com. Read his blog, Hardball in the Rockies, and follow him on Twitter @harding_at_mlb. Ian McCue is an associate reporter for MLB.com. This story was not subject to the approval of Major League Baseball or its clubs.