Hill faces former team for first time since trade
Hill faces former team for first time since trade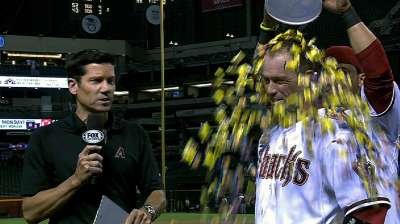 PHOENIX -- For the first time in his professional career, Aaron Hill found himself playing against the Blue Jays.
Hill was drafted by the Blue Jays in 2003 and played in the big leagues there from 2005 until being traded to the D-backs in August 2011.
"There are still some guys that I developed great relationships with while I was there," Hill said. "I'm looking forward to see them, but we still have to focus on winning some ballgames here as we try and make a late push. You wish them luck throughout the season, until you're playing them."
Hill struggled with the Jays in 2010 and 2011, but his offense has been outstanding since he joined Arizona, winning a National League Silver Slugger Award last year.
"He was a really good player in Toronto for a number of years," Blue Jays manager John Gibbons said. "But sometimes you need a new look; that's not uncommon in baseball. Bottom line, though, is he's been a good player his whole career. He's very talented, and I know they love him over here."
Hill spent time talking with Blue Jays players and coaches during batting practice. He was not in the lineup Monday, getting a rare day off.
"That was the only organization that I knew, and they treated me and my family wonderfully," Hill said. "It's a great city, big city, had a lot of great times there. A lot of great memories."
Steve Gilbert is a reporter for MLB.com. Read his blog, Inside the D-backs, and follow him on Twitter @SteveGilbertMLB. This story was not subject to the approval of Major League Baseball or its clubs.