Crew recalls top prospects Nelson, Hellweg, Halton
Crew recalls top prospects Nelson, Hellweg, Halton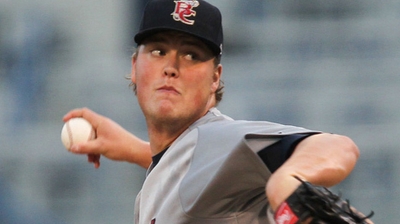 MILWAUKEE -- After Monday's 5-2 loss to the Pirates, the Brewers announced three more September callups from Triple-A Nashville: 24-year-old pitchers Jimmy Nelson and Johnny Hellweg, and infielder Sean Halton.
Brewers manager Ron Roenicke said Nelson, who has not pitched in relief since 2011, will be used out of the bullpen, but may get a start down the road.
"He'll join our bullpen," Roenicke said. "Later on, we'll see where we are. If we can slide him in to get him a start, that might be good. But I'm not sure yet."
Nelson -- ranked as the Brewers' top prospect by MLB.com -- will make his Major League debut. In 15 starts with Nashville this season, the right-hander had a 5-6 record and 3.67 ERA. He was promoted to Triple-A in early June from Double-A Huntsville, where he was 5-4 with a 2.74 ERA in 12 starts. Nelson finished with 163 strikeouts and 65 walks in 152 1/3 innings between the two levels.
Hellweg --- the No. 3 Brewers prospect on MLB.com's list -- has had an interesting year, dominating at Nashville on his way to Pacific Coast League Pitcher of the Year honors, but scuffling in his first trip to the big leagues.
The 6-foot-9, 205-pound right-hander made three starts and a relief appearance with the Brewers from June 28-July 10 and struggled to an 0-3 record and 10.97 ERA. His control was the major issue, walking five in each of his final two starts and 13 overall in 10 2/3 innings.
At Nashville, Hellweg went 12-5 with a 3.15 ERA in 23 starts. He struck out 89 and walked 81 in 125 2/3 innings.
Hellweg will join the Brewers' rotation, but Roenicke did not announce the schedule.
"We've got it mapped out," Roenicke said. "But like I said, we'll go to a six-man rotation, and he's going to be a little more than just his normal five days' rest."
Halton hit .218 with a home run and six RBIs in 24 games with the Brewers this season. Roenicke said Halton will see time at first base against left-handed pitchers.
Adam McCalvy is a reporter for MLB.com. Read his blog, Brew Beat, and follow him on Twitter at @AdamMcCalvy. Kevin Massoth is an associate reporter for MLB.com. This story was not subject to the approval of Major League Baseball or its clubs.