CarGo's finger swells up, but surgery not a possibility
CarGo's finger swells up, but surgery not a possibility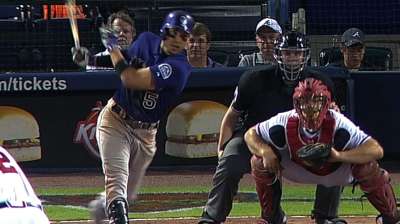 DENVER -- Rockies All-Star outfielder Carlos Gonzalez awoke Monday with his right middle finger swollen, and his spirit frustrated.
After playing Saturday and Sunday for Triple-A Colorado Springs in the first two games of his injury rehab assignment, he showed up with a swollen finger Monday and didn't play. His publicist said to the media in his native Venezuela that he feared Gonzalez would need surgery. It created somewhat of a buzz, considering that Gonzalez was to return to the Rockies on Tuesday.
However, Rockies head athletic trainer Keith Dugger said there is no surgery possibility, and he added that Gonzalez's frustration simply got the better of him.
According to Dugger, the sprained ulnar collateral ligament in the right middle finger that Gonzalez suffered in early July will have good days and bad. Monday was a bad one. When or whether Gonzalez -- hitting .302 with a team-leading 26 home runs and 70 RBIs in 103 games -- returns before the season ends is based on how he feels, but surgery is not and never has been a possibility.
A sprain, Dugger reminded, is a slight tear, and tears create pain if a player is trying to play, rather than having complete rest for six to eight weeks.
"It's still going to be sore, it's always going to be sore until he rests," Dugger said. "We're not getting another MRI. We're going to watch him daily. If he can play one day, he'll play. The next two days, he might have to take off. It's not going to get better until he rests."
Gonzalez's publicist told a reporter in his native Venezuela: "Carlos has spoken with his mother, and what we can gather is that his hand is so swollen he can't even close it now. He's feeling pain in his hand again. The [ligament] in his middle right finger is very close to being completely torn, and he has to avoid that so he wouldn't undergo a surgery. We are going to wait for an official announcement from the Rockies, but the situation is not looking good at the moment."
Gonzalez tried to play through the injury from July 7, when he suffered it, until he went on the disabled list after playing Aug. 4. He rested and felt better before beginning his rehab assignment Saturday. However, Dugger said that was enough rest to get him back on the field, but not enough to totally heal the ligament.
"When you tear something, it scars," Dugger said. "It's like spraining your ankle over and over. It becomes stable but it still doesn't have the elasticity. He'll always have a deformed finger."
Dugger said the problem with doing surgery in the area is the ligament becomes stiff, and the recurring pain will be even greater. He added that the injury will be an issue until Gonzalez adjusts his grip on the bat.
"That's not an easy thing to do," Dugger said. "It's not easy at all when you've held a bat that long. He's trying everything he can."
In another development, rookie outfielder Corey Dickerson, one of Gonzalez's replacements, is trying to battle through a hamstring tendon strain in his left knee. The injury originally occurred Sunday. Dickerson had a pinch-hit double in the eighth inning Monday, but could not stay in the game to run the bases.
"Tendinitis -- it's just been there and it will burn after I run," Dickerson said. "The burning sensation has gotten a little worse, so we're trying to flare it down and get it iced. But it will be all right."
Thomas Harding is a reporter for MLB.com. Read his blog, Hardball in the Rockies, and follow him on Twitter @harding_at_mlb. Ian McCue is an associate reporter for MLB.com. This story was not subject to the approval of Major League Baseball or its clubs.