Smith helps Royals gain Wild Card ground
Smith helps Royals gain Wild Card ground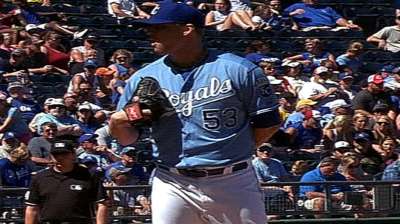 KANSAS CITY -- Left-hander Will Smith did such a fine job in relief for the Royals on Monday that manager Ned Yost was left searching for superlatives.
"I don't know what you can say," Yost said. "It was phenomenal, outstanding, great. Man, what a job."
Obviously, he quickly found his words just after the Royals found a way to beat King Felix Hernandez and the Seattle Mariners, 3-1, in the first meeting of the clubs this season on Monday at Kauffman Stadium.
Smith went 4 1/3 scoreless innings in relief of left-handed starter Danny Duffy, racking up a career-high eight strikeouts. It was a long outing, but Smith needed only 46 pitches to do it.
"Every time I came back in there, Ned was like, 'You all right?' and I was like, 'Yeah, I'm fine. I'm going to give you what I got,' " Smith said. "I wasn't lying to him. I was able to go back out and keep getting guys out."
The only baserunner against him came in the seventh inning when center fielder Jarrod Dyson lost Kyle Seager's fly ball in the sun and missed the catch. Seager was credited with a double.
"I saw it all the way, and it just got in the sun at the last minute, and I couldn't even tell my corner guys, 'I can't see, I can't see,' " Dyson said. "It's just one of those hang with 'em plays."
Smith ended the inning with a strikeout, then breezed through a seamless eighth inning to set things up for closer Greg Holland. He pitched past a two-out single to secure Smith's second victory and his own 37th save.
Duffy, in his fourth start for the Royals, got through three scoreless innings, but he was piling up pitches in a hurry. He stranded a total of six runners and was at the 68-pitch mark at the end of the third.
Duffy didn't make it out of the fourth inning, even though the Mariners got just one run with two outs on Abraham Almonte's double and Brad Miller's triple. After a walk, Smith got the call.
Smith struck out Seager to end the inning, keeping the Mariners' lead to 1-0. Duffy had his string of 15 2/3 scoreless innings ended as he piled up 91 pitches (55 strikes), giving up four walks and five hits.
"There's not a whole lot to say about it, other than Will Smith did a great job," Duffy said. "His slider is disgusting, and my team had my back because they always do. We got a win out of it, and we've got to keep giving this city hope."
The Royals remained 9 1/2 games behind first-place Detroit in the American League Central and are 4 1/2 games out in the AL Wild Card race after gaining a game with Monday's win.
As 20,063 fans basked in 79-degree sunshine on a sublime Labor Day afternoon, the Royals retaliated immediately against Hernandez. Three straight singles by Eric Hosmer, Billy Butler and Mike Moustakas produced the tying run.
The Royals scored the decisive runs in the fifth inning. Dyson got an infield single and promptly raced to third base on Alcides Escobar's hit-and-run single to right field. But wait a minute. It wasn't a hit-and-run.
"It was a run-and-hit. The difference is, when I put on a sign, it's a hit-and-run play. That's where the runner's taking off, and the hitter's swinging at anything that he throws up there," Yost explained. "The run-and-hit normally happens with Escobar, because anytime anybody runs, he's hittin'."
So it's not a called play, but more of an improvised action.
"I knew Dyson was going on that pitch," Escobar said, "and I saw the ball and tried to hit the ball toward the second baseman."
He did just that, except the second baseman, Nick Franklin, was engaged elsewhere -- covering second base with Dyson on the run. The ball rolled through where Franklin wasn't.
After Escobar swiped second, Hernandez uncorked a wild pitch that scored Dyson. Alex Gordon walked before Emilio Bonifacio lofted a sacrifice fly to right, getting Escobar home for a 3-1 lead.
Hernandez left the game with a cramp in his lower back with two outs and a man on in the seventh inning. The Mariners reported he should recover nicely.
In the long haul, the King was dethroned on this day by the tight pitching of Smith.
"That second lefty came in, and they just had a lot of trouble picking up the slider," Mariners manager Eric Wedge said. "He handled us pretty good."
Sure did. Smith's eight strikeouts were the most by a Royals reliever in 20 years, or since Tom Gordon flashed his stuff past eight Tigers in 4 2/3 innings on July 9, 1993.
"I was able to get ahead today. I got a lot of first-pitch strikes, and I just kind of went from there. Them having a lot of lefties helped, too," Smith said.
He gave due credit to catcher Salvador Perez for guiding him from his nasty slider early on to mixing in some effective curveballs the second time around. Perez drew Yost and a trainer out of the dugout to examine his right wrist in the ninth inning.
"Catchers," Yost said, "every once in a while, you hit a blood vessel just right and it'll blow a little bit and you get a little mouse or frog or whatever you want to call it. He's absolutely OK."
So was Smith, so OK that questions arose about him returning to his old job of starting pitcher. Not so fast.
"Right now, we're trying to win ballgames, and all that stuff we figure out down the road," Yost said.
Right now, the Royals are happy with Smith in relief.
As Dyson put it: "That dude did a heck of a job on the bump today."
Dick Kaegel is a reporter for MLB.com. This story was not subject to the approval of Major League Baseball or its clubs.