Top prospect Choice makes MLB debut as DH
Top prospect Choice makes MLB debut as DH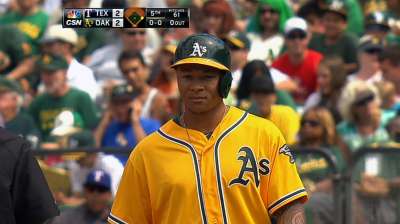 OAKLAND -- It first appeared that Michael Choice's callup to the Major Leagues was a reward for a productive season in Triple-A, but he received the opportunity to prove himself right away.
One day removed from joining the big league club for the first time in his career, Choice batted ninth as the A's designated hitter in Monday's series opener against the Rangers -- the team the Arlington native rooted for growing up.
He didn't disappoint. Choice, the 10th overall pick in the 2010 First-Year Player Draft and the A's second-best prospect as rated by MLB.com, drew a walk in his first plate appearance in the third inning and reached base on an error in the fifth.
"First at-bat walk, which for the A's is like a starting out with a homer," A's manager Bob Melvin said.
In the fifth, Choice hit a sharp ground ball to Gold Glove third baseman Adrian Beltre, who made a throwing error that allowed Choice to hustle to first base. Coco Crisp hit the go-ahead home run one batter later to give the A's the 4-2 win.
"Obviously, he's an All-Star third baseman over there, and he doesn't make throwing errors at all," Crisp said. "So maybe because he was hustling down there he kind of shocked him with his size. He has some good speed. That was big for us hustling down there like that."
Choice batted a career-high .302 with 14 home runs and a career-high 89 RBIs in 132 games with the Triple-A River Cats this season and also had career highs in runs (90) and on-base percentage (.390).
"He's done everything well," Melvin said before the game. "He's had a great year. He's driven in runs, he's hitting for a high average, he's been consistent the whole year. ... Not only is this kind of a reward for him to bring him to the big leagues, but it's also that we obviously feel like he's somebody we can use."
Melvin alerted Choice that he would play the day prior, though he was nearly inserted into the game in numerous situations in Sunday's 5-1 over the Rays, Melvin said.
The skipper added that starting Choice off in the DH role should help him ease into Major League situations, though he credited his ability to play all three outfield positions. Crisp left the game early with a right shin contusion. Chris Young is Melvin's second option at center field, but Choice could receive time as a corner outfielder against left-handed pitchers.
"It depends on his performance," Melvin said. "We try to run out the best lineup on a particular day. Here recently, we've always had at least one left-handed hitter in the lineup. His performance will dictate how many at-bats he gets."
Choice's debut comes 28 years to the day that Jose Canseco played his first big league game in 1985. Choice's parents, wife, sister-in-law and son, Blair, were in attendance at the Coliseum.
Jeff Kirshman is an associate reporter for MLB.com. Jane Lee is a reporter for MLB.com. This story was not subject to the approval of Major League Baseball or its clubs.