Encarnacion likely to stay at first vs. D-backs
Encarnacion likely to stay at first vs. D-backs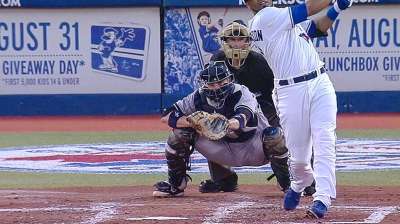 PHOENIX -- Without the benefit of the designated-hitter spot this week in Arizona, Blue Jays manager John Gibbons said Monday he expected Edwin Encarnacion to get most of the time at first base in the series against the D-backs and use Adam Lind off the bench.
"Two middle-of-the-order hitters for us, and one of them has got to sit; it's probably going to be Lind," Gibbons said. "He'll be available to pinch-hit in certain situations, and hopefully he does a good job there. If push comes to shove and a double-switch situation comes, we can always move Encarnacion around, maybe to third. So there are some options, there are ways to do it."
For what it's worth, Encarnacion, who got the start Monday at first, has experienced plenty of success playing at Chase Field in his career, albeit in a small sample size. Entering the series opener, Encarnacion had tallied six homers and nine RBIs in just 12 games at the ballpark.
"He hits them anywhere, but I'm sure he's feeling good coming in here," Gibbons said. "Hitters get excited about that when they know the ball flies."
Tyler Emerick is an associate reporter for MLB.com. This story was not subject to the approval of Major League Baseball or its clubs.