Mattingly says Kemp close to regaining swing
Mattingly says Kemp close to regaining swing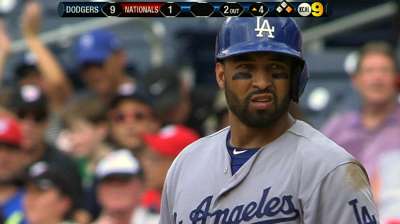 DENVER -- With every collar at the plate, Matt Kemp's rehab stint drags on, even though manager Don Mattingly said Kemp's at-bats for Class A Rancho Cucamonga are improving.
"[Hitting coach Mark McGwire] and I watched tape and he doesn't look that far off," Mattingly said of Kemp, whose 0-for-4 Monday brought his total to 0-for-14 with seven strikeouts in what started as a rehab for a sprained left ankle but has become a rehab of his bat.
"I know he's not getting hits and he's striking out, but it looks like it's just repetition and at-bats. Just a little time. His health and the way he looks is fine, other than not getting the results."
Mattingly all but ruled out Kemp joining the Dodgers in Colorado. The next series is in Cincinnati, but Kemp is likely to continue the rehab with the Quakes in the California League postseason.
"It's a matter of timing," Mattingly said. "He wants what I want, for him to feel ready to compete at this level when he comes back."
Ken Gurnick is a reporter for MLB.com. This story was not subject to the approval of Major League Baseball or its clubs.