Young calls coming to Dodgers 'a no-brainer'
Young calls coming to Dodgers 'a no-brainer'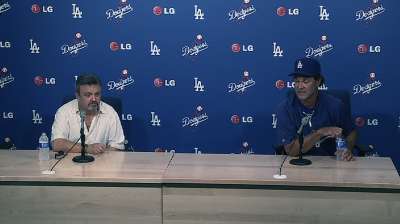 DENVER -- Michael Young, the newest Dodger, said Don Mattingly was his favorite player growing up, even though Young was raised in Covina, Calif., and estimates he attended 20 games a year at Dodger Stadium.
"That's not going to get him in the lineup any faster," joked Mattingly, who later said Young could start at third base Tuesday night for the Dodgers because Juan Uribe is 0-for-15 with six strikeouts against Colorado starter Jhoulys Chacin.
A seven-time All-Star whose production has tailed off the past two years, Young will be a backup corner infielder, pinch-hitter and veteran presence.
"I'll be a winning player for the Dodgers. That's my role," he said. "Every guy in the locker room would rather have five at-bats a game. This won't be tough. It's all about winning, not to mention this being my first year in the National League, most of the games I didn't start I ended up in anyway and I like it that way.
"At this point, all I care about is winning. If they weren't where they are in the standings, the sentimental aspect [of playing at home] would not mean as much."
Mattingly said he'll withhold judgment on how much Young still has on defense until he sees it up close.
"You hear things, see the ratings, hear the comments the last few years, but I have to see it," he said. "I haven't noticed anything. They told me Andre [Ethier] doesn't play good defense. Really? It looks good to me."
Young, who came from the Phillies for Minor League pitcher Rob Rasmussen, joins this list of Dodgers August acquisitions -- Marlon Anderson in 2006, Greg Maddux in 2008, Jon Garland and Ronnie Belliard in 2009. In mid-August of 2009, the Dodgers signed Vicente Padilla.
Ken Gurnick is a reporter for MLB.com. This story was not subject to the approval of Major League Baseball or its clubs.