Thornburg delivers more quality, but support lacks
Thornburg delivers more quality, but support lacks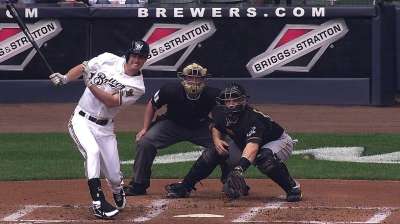 MILWAUKEE -- Tyler Thornburg returned to the rotation and delivered another quality start, but the Brewers' bats and bullpen did not back him in a 5-2 loss to the Pirates on Labor Day.
Neil Walker's three-run home run in the seventh inning off Brewers reliever Alfredo Figaro was the big blow, as the Pirates reclaimed sole possession of first place in the National League Central with their 80th victory this season and a Cardinals loss in Cincinnati. The Pirates need only one more win to snap a streak of 20 consecutive sub-.500 seasons, the longest losing streak for a franchise in North American professional sports history.
"When I was going over the scouting report on them, I was looking at their lineup and how much different it was than when I threw five innings of relief against them the first time," said Thornburg, referring to an outing on June 30, long before the likes of Marlon Byrd and Justin Morneau joined the Pirates' pennant push. "They have a lot more depth up and down the lineup now. All the way through, it's a tough battle with every guy in there.
"They made some additions, and it's going to make it tough on some pitchers."
The Pirates have their own tough pitchers, including Monday starter Charlie Morton, who worked seven innings to beat the Brewers for the second time in six days. He was backed by Walker's big homer, and Jose Tabata's three hits and two RBIs from the leadoff spot.
Tabata had more hits with a runner in scoring position -- two -- than all of the Brewers, who went 1-for-11 in the clutch, including three-hole hitter Jonathan Lucroy's 0-for-4.
"We lacked the big hit, but you've got a big pitcher out there [in Morton]," Brewers manager Ron Roenicke said. "He's real good. Throws a great sinker, pounds the right-handers in with it. He's always down in the zone. He's got a good curveball and a good changeup. That's a really nice pitcher they have."
Morton has delivered six consecutive quality starts, winning the last three including back-to-back games against the Brewers in which he allowed three runs (one earned) in 13 2/3 innings.
The only Brewers runs scored on Logan Schafer's two-out single in the second inning and on a bizarre play in the seventh, when Jean Segura singled and the throw from the outfield skipped past Pirates third baseman Pedro Alvarez and into the visitors' dugout. Norichika Aoki, who was at first base when the play began, was allowed to trot all the way home.
Segura took third on the play, but was stranded there when Lucroy struck out. Lucroy entered the day hitting .312 with runners in scoring position, but was hitless in four such opportunities Monday.
Thornburg limited the damage to two runs on six hits in six innings, with three walks and four strikeouts. In his four starts this season, the 24-year-old right-hander has allowed only three runs in 24 innings, somewhat remarkable considering Thornburg began the season 0-9 with a 5.79 ERA at Triple-A Nashville.
He will get at least one more start this month after the Brewers clear a pair of off-days in the coming week. Thornburg prefers a starting role, but Roenicke said again Monday morning that the organization was still weighing its options.
"I wouldn't say I'm more comfortable, it's just what I'm used to," Thornburg said. "Any time, for the past two to three years -- even back into college -- you've been a starter, it's just what you're used to. I'm sure if one day I'm in the bullpen for two or three years, then I'm sure I'll get comfortable with that."
Thornburg exited after six innings with the Brewers within one run of the Pirates. But one reliever, Tom Gorzelanny, left the game with a tight left shoulder after allowing a leadoff single in the seventh to Morton, and another reliever, Figaro, allowed that runner and more to score.
After Figaro warmed up, Tabata greeted him with a single, and Walker followed by hitting a 94-mph fastball for a three-run home run and a 5-1 Pirates lead.
The Brewers' previously excellent bullpen is enduring a difficult stretch, as appearances mount and roster moves deplete Roenicke's options. After pitching to a 2.88 ERA in the team's first 119 games, Brewers relievers have combined to allow 31 earned runs in their last 54 1/3 innings over 18 games -- good for a 5.13 ERA in that span.
With Francisco Rodriguez traded to Baltimore in June, John Axford traded to St. Louis last week and Burke Badenhop dealing with a neck issue, Roenicke's options in the wake of Gorzelanny's abrupt exit were limited. He went to Figaro.
"We're not putting exactly the guys we want into different situations, and that's making a difference on the outcome," Roenicke said.
The Brewers fell to 14-31 in day games, including 7-18 at Miller Park. The final two games of the series will take place at night, with the Brewers trying to push back Pittsburgh's milestone 81st win.
"Our vision is to win the division," Pirates manager Clint Hurdle said. "Not to just be better than last year. We are committed to doing some big things and feel capable of doing them."
Adam McCalvy is a reporter for MLB.com. Read his blog, Brew Beat, and follow him on Twitter at @AdamMcCalvy. This story was not subject to the approval of Major League Baseball or its clubs.