Once-unlikely heroes give Bucs division lead on Cards
Once-unlikely heroes give Bucs division lead on Cards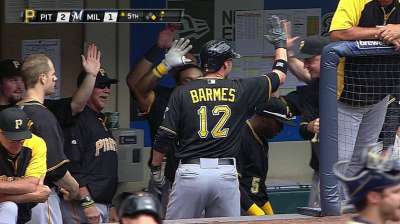 MILWAUKEE -- This is not how the Pirates drew it up in May, when Starling Marte was torching the National League as a hot leadoff hitter and Charlie Morton was with Double-A Altoona, working has way back from Tommy John surgery:
On Labor Day, they will break a tie atop the National League Central. Morton will solidify his rank as the rotation's top gun by spinning his sixth consecutive dominant game. Leadoff man Jose Tabata will go 3-for-4 in the middle of each run-scoring inning.
The unthinkable a few months ago unfolded Monday in Miller Park, where the Bucs moved a game ahead of the Cardinals, who lost to the Reds, with a 5-2 win against the Brewers sparked by Tabata and protected by Morton.
"Tabata's been able to give us a spark up there," Pirates manager Clint Hurdle said. "And Charlie ... he's gotten to a very good place."
As have all of the Pirates, who donned bibs -- not because they sat down to a messy meal of the famous Klement's Sausages, but because they could taste the end of losing: Win No. 80 placed them on the brink of guaranteeing a .500 season mark, the launching pad to bigger and better.
The Pirates fans who travelled to see bad history buried -- such as Cameron Sczerba of Pittsburgh, who made the 18-hour round-trip drive just to take in Monday's game -- certainly left feeling like they were in a good place.
"I feel good, especially when we win. It's September. If we keep winning, we're going to the playoffs," said Tabata, who is hitting .326 since Marte's Aug. 18 hand injury, although not all the at-bats have come atop the lineup.
Asked whether he likes batting leadoff, Tabata said with a smile, "I like being in the lineup. First, eighth, in between, I go do my job. I've been working hard to be ready when I'm in there."
Tabata singled off Milwaukee starter Tyler Thornburg to drive in runs in the second and the fifth, and in the seventh, he followed a Morton single with one of his own ahead of Neil Walker's three-run homer to make it a 5-1 game.
"To get those key hits ... that what we needed, and it's good for his confidence. He swung the bat very well," Hurdle said of Tabata's fifth three-hit game in a month. "And Walker ... he had good at-bat after good at-bat -- five of them."
It almost feels like Morton fed a good start into a copier, and when asked for the number of copies, pressed "6."
In his last half-dozen starts, Morton has gone between six and 7 2/3 innings every time, allowed five to seven hits per start, and never allowed more than two runs.
"They have been very similar," Hurdle nodded. "The mix has been a little different with the same results. For example, his split-change today was better than his curveball, which didn't really show up until the fifth.
"It was a blue-collar effort for Charlie," Hurdle added, a reference to having to face 30 men to get 21 outs. "He had only one 1-2-3 inning, when he wiped out the side [in the sixth]. Every other inning, there was work to do."
Milwaukee manager Ron Roenicke tried not to get worked up over the missed opportunities.
"We lacked the big hit, but you've got a big pitcher out there," Roenicke said. "He's real good. Throws a great sinker, pounds the right-handers in with it. He's always down in the zone. He's got a good curveball and a good changeup. That's a really nice pitcher they have."
Pedro Alvarez, who has often dropped jaws with the majesty of his home runs, did so with his defense in the third inning. Norichika Aoki was on third base with one out -- he singled and took an extra base when right fielder Marlon Byrd kicked the ball for an error, then went to third on Jean Segura's grounder -- when Jonathan Lucroy hit a two-hopper to Alvarez.
Aoki ran on contact, Alvarez engaged him in a rundown and, after an exchange of throws with catcher Russell Martin, got the tag on him a few feet shy of the plate -- fundamentally proper, so far, but nothing astounding. But sensing Lucroy breaking for second to exploit the rundown and get into scoring position, Alvarez pivoted and blindly uncorked a perfect throw to Walker for a putout that ended the inning.
"The throw he got off," began Hurdle, briefly at a loss for words, "that was special right there. To be moving one way, throw the ball across his body and put the ball on the bag … a solid defensive play for us."
By that time, the Brewers already had their earned run off Morton -- he allowed an unearned one in the seventh -- scored in the second when Juan Francisco sliced a two-out double to left and scored on Logan Schafer's single off Walker's glove.
Compiling his string of gems apparently is a lot easier for Morton than explaining them.
"Executing pitches. Trying to attack guys," he gave as reasons. "I feel more comfortable with my approach and with how things have gone. I feel good. I've found an approach that is effective, and I'm sticking with it."
Tom Singer is a reporter for MLB.com and writes an MLBlog Change for a Nickel. He can also be found on Twitter @Tom_Singer. This story was not subject to the approval of Major League Baseball or its clubs.