Wainwright stung by Reds again in series opener
Wainwright stung by Reds again in series opener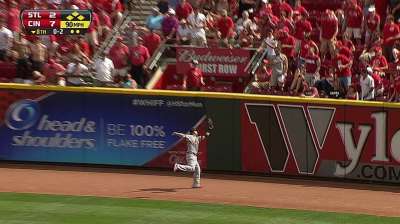 CINCINNATI -- Adam Wainwright's Labor Day start for St. Louis against the Reds was a definite improvement over his most recent effort against Cincinnati. Unfortunately for Wainwright and the Cardinals, that bar was set so low that improvement would have had to be significant to prove beneficial.
It wasn't.
Shin-Soo Choo and Joey Votto each hit home runs, Jay Bruce stroked two doubles and the Reds scored six runs over the first four innings against the St. Louis right-hander on their way to a 7-2 win on Monday afternoon at Great American Ball Park.
"Obviously, I'm frustrated," Wainwright said. "This team deserves more out of me, and the last two games, I haven't given them what they deserve."
With the loss and Pittsburgh's 5-2 win in Milwaukee, the Cardinals slipped to one game back of the first-place Pirates in the National League Central. The Reds are 3 1/2 games back of the Bucs.
Wainwright (15-9) was coming off the worst start of his career, getting roughed up for a career-high nine runs -- six in the first inning -- in a career-low two innings in the Cardinals' 10-0 loss against the Reds at St. Louis this past Wednesday. He allowed 10 hits and six runs with two walks and three strikeouts in six innings on Monday, leaving him with 15 runs and 18 hits allowed in his last eight innings -- all against Cincinnati.
"They've put some good swings on me," Wainwright said. "The last time, it was a matter of me leaving too many balls in the middle of the plate. Today, they hit some good pitches. I feel very strong. I've had some good games against them in the past. It's a headscratcher, to be honest with you."
Wainwright's three strikeouts give him 1,095 in his career, tied with Hall of Fame right-hander Dizzy Dean for second in the Cardinals' record book, behind the 3,117 logged by another Hall of Fame right-hander, Bob Gibson.
"You can't forget what Adam's done all season," manager Mike Matheny said. "You can't let two starts blanket what he's done all season. Overall, he's done a great job. You can't forget that."
Matheny admitted that the Cardinals have pondered the possibility that the Reds have picked up something in Wainwright's motion that gives them an edge.
"We've been breaking it down," Matheny said. "You want to make sure you're not giving them anything before you start making mechanical changes."
The Reds took a 1-0 lead in the first on former Cardinal Ryan Ludwick's RBI single. They added three in the second for a 4-0 lead on Todd Frazier's leadoff ground-rule double over the right-center-field wall, Zack Cozart's run-scoring single and Choo's 19th homer of the season.
"I think we've gotten some pitches to hit these last two outings we've faced him," said Ludwick, who played for St. Louis from 2007-10. "We've done damage with him."
In the third, Frazier followed Bruce's first double and Devin Mesoraco's one-out single with an RBI single to left. Votto added his 21st homer of the season, a 367-foot opposite-field shot to left-center field, with two outs in the fourth inning.
Wainwright, 5-8 with a 4.84 ERA in 14 starts and five relief appearances against Cincinnati before Monday's game, logged his first shutout inning in the fifth and went 1-2-3 in the sixth. He also got the Cardinals' only scoring inning started with a double to lead off the third, coming around to score on Matt Carpenter's double. Jon Jay sacrificed Carpenter to third, and he scored on Matt Holliday's sacrifice fly.
That was all St. Louis could muster against Mat Latos (14-5), who gave up just four hits and one walk with two strikeouts in his fourth career complete game.
"He was the same guy," Holliday said. "He did a little better job of executing and getting ahead of hitters. We never could get that big of a rally started. It helped that he was able to get a big lead early."
Holliday logged the Cardinals' other two hits against Latos, a single to center with two outs in the first inning and another single with one out in the sixth. Holliday was forced at second when Allen Craig's sharp grounder to Frazier at third glanced off his glove to Cozart at shortstop, who threw to Brandon Phillips at second.
"We hit some balls hard, but we couldn't get any momentum going," Matheny said.
Mark Schmetzer is a contributor to MLB.com. This story was not subject to the approval of Major League Baseball or its clubs.