Reds gain on Cards in Central as Latos goes distance
Reds gain on Cards in Central as Latos goes distance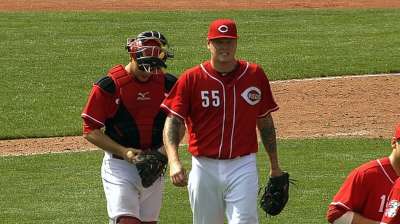 CINCINNATI -- Mat Latos felt anxious heading into a Labor Day showdown with the Cardinals. Facing one of the teams in front of the Reds in the National League Central and squaring off against ace Adam Wainwright, Latos knew much was expected of him on Monday.
That anxiety faded rather quickly, though, after Cincinnati posted six runs in the first four innings. Latos -- feeling confident and loose -- took it the rest of the way, tossing his first complete game of the season as the Reds beat the Cardinals, 7-2, at Great American Ball Park.
"Huge," third baseman Todd Frazier said of Latos' effort. "We're going to build off that. It's what he's been doing. He's the man. He's our No. 1 guy, so we've got to ride on his back. The way he pitched today, if he keeps on doing that, we're going to do some damage in the playoffs, for sure."
A trip to the postseason is likely for the Reds considering their advantage in the race for the NL's second Wild Card spot. However, a division title is still well within reach and continues to be the main goal. With Monday's win, Cincinnati remained 3 1/2 games behind first-place Pittsburgh (which posted a 5-2 win at Milwaukee on Monday) and moved to within 2 1/2 games of second-place St. Louis, which currently holds the top Wild Card position.
So the nerves for Latos on Monday were understandable, but they weren't nearly enough to bother the 25-year-old right-hander.
Latos started his day by giving up a single and a walk in the first two innings before back-to-back doubles in the top of the third gave the Cardinals their first run. Two batters later, a sacrifice fly scored the second run of the inning.
That would be the last time St. Louis threatened on Monday.
After the third, Latos delivered consecutive perfect innings before Matt Holliday singled in the sixth to give the Cardinals their only baserunner in the final five frames. And when it came time to decide if Latos should take the mound for the ninth, it didn't take much to convince Reds manager Dusty Baker to stick with his starter.
"He wants the ball," Baker said of Latos. "He wants to go deep into games. We'll ask him, 'Hey man, you had enough?' Early in the year, he was kind of telling us, but now we got to ask him. He's come a long ways."
In his first 22 starts this season, Latos pitched more than seven innings just three times. He's now done it four times in his past six outings, with the Reds winning each of those games.
Following the fourth complete game of his career on Monday, when he gave up just four hits while striking out two, Latos couldn't pinpoint a turning point in the season for him, but he did have a reason for his success.
"I would say Dusty letting me be myself," said Latos, who matched a career high with his 14th win. "I'm not a cookie cutter. That's just the way it is. Just to have him having the confidence in me to go out there again, I've told him I want to show him that I can pick up more of that workload and go deeper into ballgames. He's given me the opportunity."
On Monday, Latos' job was made easier by an offense that exploded for 12 hits and scored in each of the first four innings against Wainwright, who was pummeled by the Reds for the second straight start. Last Wednesday, Wainwright allowed a career-high nine runs during a career-low two innings of work in a 10-0 loss to Cincinnati. He made it six innings on Monday but still surrendered six runs on 10 hits.
"They've put some good swings on me," Wainwright said. "The last time, it was a matter of me leaving too many balls in the middle of the plate. Today, they hit some good pitches. I feel very strong. I've had some good games against them in the past. It's a headscratcher, to be honest with you."
Ryan Ludwick opened the scoring in the first with a base hit to plate Shin-Soo Choo. In the second, Zack Cozart chipped in with an RBI single before Choo connected on a two-run homer for an early 4-0 lead.
Although Latos would give up his only two runs in the top of the third, the Reds got one back in the bottom of the frame when Frazier followed a leadoff double and a one-out single with a single of his own that scored Jay Bruce. Joey Votto hit a solo homer in the fourth before Cincinnati tacked on its final run with a bases-loaded walk in the eighth.
Monday marked the beginning of a critical four-game series against the Cardinals, and by the end of it, the standings could look much different. For the Reds, they hope that's a good thing, and that they can build off Monday's performance.
"Every game, it seems like it's two games now," Frazier said. "We have to understand, keep pushing, keep trying and keep getting those runs. When they got two, we came back with two or three. That's what we have to do every game."
Jeremy Warnemuende is an associate reporter for MLB.com. This story was not subject to the approval of Major League Baseball or its clubs.