Masterson injured in series-opening loss to O's
Masterson injured in series-opening loss to O's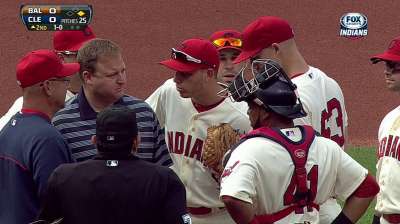 CLEVELAND -- Indians starter Justin Masterson is a man of faith. The pitcher has voiced his belief in Cleveland's ability to be a postseason team all season long and he still clings to that hope, even in light of the team's latest obstacle.
During a 7-2 loss to the Orioles on Monday, Masterson left in the second inning with soreness around his left rib cage. The short-term effect of Masterson's exit was the loss to Baltimore, which dealt Cleveland its sixth loss in the past seven games. The effect the injury will have on the Tribe's postseason chances remains to be seen.
Start praying.
"Hopefully, the Good Lord performs a miracle, touches my side," Masterson said. "That would be great."
With the win, the Orioles pulled 1 1/2 games ahead of the Indians for third place in the hunt for the American League's two Wild Card spots. Oakland and Tampa Bay hold down those two positions, with the Indians facing a deficit of 3 1/2 games.
Cleveland has seen a dramatic drop-off in offense over the past six weeks, but the performance of the pitching staff has helped keep the Indians in the race. Masterson -- a first-time All-Star this season -- has played a prominent role in that regard.
"He's one of the best pitchers in the American League," Orioles manager Buck Showalter said.
The 28-year-old Masterson has already established career bests with 14 wins and 188 strikeouts, and entered Monday's outing ranked third in baseball with 236 groundball outs created. He has become a leader both on the mound and in the clubhouse, making his absence for any length of time tough for Cleveland.
Masterson is scheduled to undergo an MRI exam on Tuesday morning, at which time the Indians will know more about the severity of the injury.
Missing even one start would be a blow for the Tribe.
"It's hard to quantify. He's our best pitcher," Indians manager Terry Francona said. "But when things don't go your way ... you can either feel sorry for yourself, or you can find a way to shine. I hope that we are able to come back whether it takes everybody in the bullpen, and guys on the bench.
"You just keep fighting. That's the best way to do it."
Francona said Masterson first complained of mild soreness in his side -- something the pitcher encountered earlier this year with no lingering issues -- following the first inning. After two pitches to Matt Wieters to begin the second inning, Masterson was met on the mound by Francona and a team trainer. The pitcher stayed in the game, allowed a base hit to Baltimore's catcher and then took a moment after throwing an 87-mph four-seam fastball to Nick Markakis.
Indians shortstop Asdrubal Cabrera jogged to the mound and motioned to Francona.
Masterson said it was catcher Carlos Santana who was not going to allow another pitch.
"Carlos didn't like it," Masterson said. "So, Carlos told me I was done."
Francona again emerged from the dugout and pulled Masterson from the game.
The Orioles took advantage of Cleveland's misfortune, scoring three runs quickly after Masterson's slow walk off the field. Markakis singled and then Nate McLouth sent a pitch from rookie reliever Preston Guilmet deep to right field for a run-scoring fielder's choice. McLouth would have been rewarded with a double had it not been for a quirky scoring rule.
On the play, Markakis missed second base while running from first to third. Cleveland appealed by having Guilmet toss the ball to second baseman Jason Kipnis, who stepped on the bag. Markakis was ruled out and McLouth's double was rendered a fielder's choice as a result.
"Everybody saw it," said Francona, referring to Markakis missing the bag.
Technicalities aside, Baltimore had its first run and continued to add on.
Later in the second, Brian Roberts hit a two-run double to right-center field off Guilmet to push the Indians behind, 3-0. In the fourth inning, McLouth delivered again -- this time against Indians reliever Nick Hagadone -- with a two-run home run into the right-field stands to give the Orioles a 5-0 lead. Wieters put the game away with a two-run homer off lefty Marc Rzepczynski in the ninth.
Baltimore's showing was more than suitable for Orioles right-hander Bud Norris, who was acquired from the Astros prior to the July 31 non-waiver Trade Deadline. Norris turned in seven innings, during which he struck out eight, scattered four hits and issued one walk. The right-hander's lone misstep came in the seventh, when Kipnis led off with his 17th home run of the season.
What made Norris so effective?
"He had a scheduled start against our offense," said a frustrated Kipnis. "He was around the zone for most of the day and he kept the ball down for the most part and got ahead of guys. But, right now, like I said -- jokingly or not -- he's catching us at a good time."
Kipnis' home run and a solo shot from Lonnie Chisenhall in the eighth represented the only offense for the Indians, who have scored three runs or fewer in 18 of their past 29 games. In August, Cleveland ranked last in the American League in on-base and slugging percentage, and second from the bottom in runs scored and batting average.
Things have not been much better two games into September.
"We're digging our own hole right now," Kipnis said. "It's almost like we've been trying too hard, and almost being counterproductive in a way. We want to hit that five-run home run with nobody on. We're just going about it the wrong way and trying to do too much, and it's starting to hurt us."
Masterson -- a preacher's son -- continues to have faith that the pitching staff will do its part.
"It might be a couple days' rest," Masterson said of his required recovery time. "If it is any more serious than I think it is, we have some good guys in place that can do a lot of work. It's not going to be fun, if that is the case, but we're hoping that things will be all right."
Jordan Bastian is a reporter for MLB.com. Read his blog, Major League Bastian, and follow him on Twitter @MLBastian. This story was not subject to the approval of Major League Baseball or its clubs.