Wedge giving versatile Almonte a look in center
Wedge giving versatile Almonte a look in center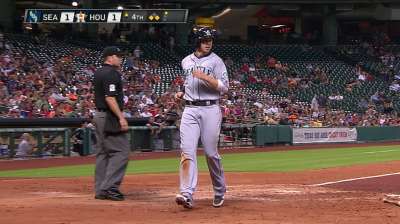 KANSAS CITY -- The Mariners got to see newcomer Abraham Almonte play left and right field in Houston. On Monday, Almonte drew the start in center while hitting in the No. 9 slot.
"[Center field] is where he had been playing the majority of the time in Triple-A," Mariners manager Eric Wedge said. "I didn't want to break him in as the center fielder in Houston with that hill they've got out there. He's got a more normal setting here in Kansas City."
Wedge likes the versatility that Almonte brings -- he can smoothly play all the outfield positions.
"For someone like him, who can run and throw and is so athletic, he can most definitely handle all three," Wedge said.
Robert Falkoff is a contributor to MLB.com. This story was not subject to the approval of Major League Baseball or its clubs.