Coke enjoys interacting with Red Sox fans
Coke enjoys interacting with Red Sox fans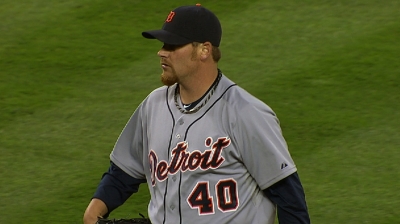 BOSTON -- Phil Coke's return to the Tigers bullpen came just in time for the club's return to Fenway Park. It was a win for Boston fans who have a history of interacting with him.
And for Coke, whose history in Boston dates back to his early year in the Yankees bullpen, it's not exactly the worst thing, either. As tough as Boston fans can be on visiting players, he finds it entertaining.
"People are going to tell you what they think no matter what, which is fine," said Coke, who retired Jacoby Ellsbury, the only batter he faced, in Monday's 3-0 win over the Red Sox. "It makes the closeness of the fans fun. That's the best way to put it. It's kind of crazy. It's tough to put into words, because every experience you have here at Fenway is never the same. You don't hear the same stuff. It's always different."
Some of the different lines have been memorable for him.
"I've heard some of the most unbelievable comments about my mom," Coke said. "When my hair was longer and we were here, somebody made a Chuck Norris comment. It was really funny."
Some relievers tune out the noise. Coke enjoys responding.
"If you fire back at them and shut them up, they don't typically come after you another time," Coke said. "They want to be more friendly with you."
Jason Beck is a reporter for MLB.com. Read Beck's Blog and follow him on Twitter @beckjason. This story was not subject to the approval of Major League Baseball or its clubs.