Month after trade, Iglesias back in Boston
Month after trade, Iglesias back in Boston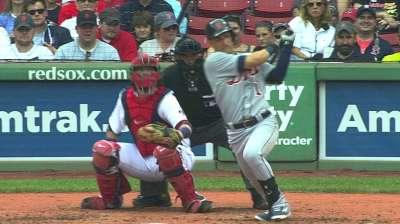 BOSTON -- Jose Iglesias played just 45 games at Fenway Park in his Red Sox career, so it was hard to call Monday a homecoming for the former Boston prospect. Still, a month after the three-team trade that sent Iglesias to Detroit and sent Tigers outfield prospect Avisail Garcia to the White Sox, it was another moment to reflect on the way the trade changed Detroit's fortunes this season.
In Monday's 3-0 win over the Red Sox, Iglesias went 1-for-3 and helped turn three double plays. On the third double play, Iglesias made an acrobatic turn to erase a leadoff single in the sixth.
Manager Jim Leyland continues to learn about his new shortstop.
"He's very gifted, he's very competitive, very instinctive, and a little bit eager sometimes," Leyland said.
Leyland is trying to channel that competitiveness with eagerness without taking away the drive. He has marveled at Iglesias' defense like everyone else, but he has also seen Iglesias' youth show at times, in the field and at the plate.
"You don't want to take any of that aggressiveness and energy away," Leyland said. "You just have to make sure you channel it in the proper direction. I think it takes time to let that happen."
Jason Beck is a reporter for MLB.com. Read Beck's Blog and follow him on Twitter @beckjason. This story was not subject to the approval of Major League Baseball or its clubs.