Murphy in awe of former teammate Stanton's power
Murphy in awe of former teammate Stanton's power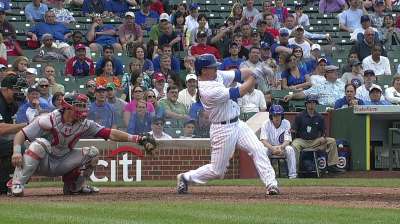 CHICAGO -- Donnie Murphy played for the Marlins last season and got to watch Giancarlo Stanton in batting practice on a regular basis. It was ridiculous, Murphy said.
"It's one of those things where you hear how much power a guy has, but until you see it in person, you don't actually see how unbelievable his power is," said Murphy, now with the Cubs. "In San Francisco last year, he hit a ball into the glove [behind the seats] in left field. A fan who has been going there for I don't know how many years said he'd never seen that. It feels like a Little League field to him, that's how strong he is."
Early arrivals for the Cubs' games this week against the Marlins can watch Stanton aim at the bleachers and beyond.
"The first round of batting practice, he likes to go the other way," Murphy said. "His other way is to play catch with the guy in the bleachers in right-center. That's ridiculous. He's a specimen."
Did Murphy learn anything from watching or talking to Stanton?
"He's a big powerful guy and I'm a little guy," Murphy said. "He can mishit balls and they still go out. I have to hit balls and they go out. He's on his own level when it comes to power and it's fun to watch him hit."
That may be true, but Murphy led the Cubs in August with eight home runs.
"I laugh at it," Murphy said. "I wasn't expecting it. I wish we had won more ballgames. It was good to put up power numbers like that. Getting to play every day and do that, it was personally very fulfilling."
The eight home runs in 24 games is a career high for Murphy, whose previous best was six in 42 games in 2007 with the Athletics.
Carrie Muskat is a reporter for MLB.com. She writes a blog, Muskat Ramblings, and you can follow her on Twitter @CarrieMuskat. This story was not subject to the approval of Major League Baseball or its clubs.