Beltran out of lineup again with tight back
Beltran out of lineup again with tight back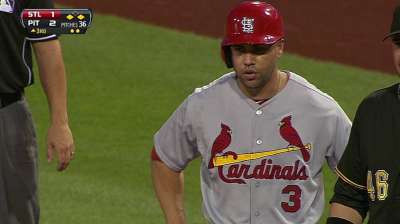 CINCINNATI -- Last season, right fielder Carlos Beltran probably would have been in the starting lineup for a game such as Monday's opener of a four-game series against the Reds.
Instead, Beltran was out of the starting lineup for the second straight day after leaving Saturday's game at Pittsburgh with tightness in his lower back.
"It's still tight," manager Mike Matheny said. "He probably could go, but if we use him, it will be off the bench. That's how we've done it all year. Instead of trying to push him through, we've tried to pay attention to how he feels. That should pay dividends in the long run."
Beltran confirmed after Monday's 7-2 loss that his back was still tight, but he took some swings and expects to be in the lineup for Tuesday's game against the Reds.
Beltran, 36, missed 14 of the Cardinals' first 136 games this season after playing in 151 of their 162 last year. The switch-hitter still was leading St. Louis with 23 home runs and ranked eighth in the National League with a .310 batting average entering Monday.
Matheny also knew it was difficult for Beltran to miss batting against Cincinnati right-hander Mat Latos on Monday. Beltran went into the game hitting .333 (7-for-21) with three home runs and four RBIs in his career against Latos.
"Last year, we would try to run him out there," said Matheny, whose first year as the Cardinals' manager also was Beltran's first on the team. "This year, we're being smarter."
Mark Schmetzer is a contributor to MLB.com. This story was not subject to the approval of Major League Baseball or its clubs.