Banged-up Gomez asks Roenicke for rare day off
Banged-up Gomez asks Roenicke for rare day off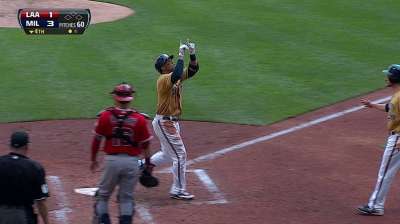 MILWAUKEE -- After an uncharacteristically trying day of defense Sunday, Brewers center fielder Carlos Gomez asked to take a break on Labor Day.
Gomez was absent from the Brewers' lineup Monday afternoon, a chance to rest a myriad of bumps and bruises, including a right knee that is still giving him trouble. He sprained the knee on Aug. 15 against the Reds, missed six games, then started nine in a row through Sunday.
In recent days, Gomez has been clearly compromised. A Mike Trout line drive knuckled over his head in the first inning Sunday, a Luis Jimenez popup that a healthy Gomez probably tracks down dropped for a hit in the second inning, and another Trout line drive to the right-center field gap got by Gomez for a triple in the third.
"It's a good day, after two early games, to have a day [off]," said Gomez, whose knee "is still not 100 percent. You see me limping, especially after a game I have to run a lot. Yesterday, I had a rough time and I had a few balls in the gap I had to run [for]. I feel a little fatigued."
Gomez passed word through a coach to manager Ron Roenicke that he could use a rare day on the bench. Gomez made clear he was available late in the game.
Offensively, Gomez matched his career high with his 19th home run Sunday, but it was his first since Aug. 6. He entered Monday batting .213 in his last 22 games with four extra-base hits, and batting .241 over his last 60 games to drop his average from .326 on June 12 to .286 on Sunday.
"He's kind of like [shortstop Jean Segura], he's a little beat up," Roenicke said. "Most of these guys are. None of them are enough to keep him out of the lineup, but to just keep putting him out there when he's worn down, he suggested that he needed a day."
Adam McCalvy is a reporter for MLB.com. Read his blog, Brew Beat, and follow him on Twitter at @AdamMcCalvy. Kevin Massoth is an associate reporter for MLB.com. This story was not subject to the approval of Major League Baseball or its clubs.