Alvarez does it all for Marlins in Labor Day win
Alvarez does it all for Marlins in Labor Day win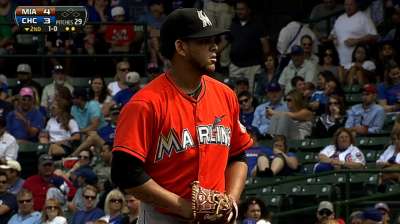 CHICAGO -- Henderson Alvarez decided that if things weren't working for him on the mound early on in Monday's series opener against the Cubs, he'd just have to use his bat.
The right-hander hit his first Major League home run -- a three-run shot in the second -- to lift the Marlins to a 4-3 win over Chicago at Wrigley Field.
"As soon as I hit it, I knew it was gone," Alvarez said through translator and Marlins third-base coach Joe Espada. "I was up there looking for a good pitch I could hit and I got it and put it in play. It was my first Major League home run so I was pretty excited about it, especially since I was able to help the team win the game."
Miami scored a run in the first on a solo homer by Christian Yelich, his third.
Following an Ed Lucas double and a Jeff Mathis single to put runners on the corners in the second, Alvarez -- who came into the game hitting .294 (5-for-17) on the season -- launched the first pitch he saw from Cubs starter Travis Wood into the left-field bleachers.
It was the first home run for a Marlins pitcher this season and first since Carlos Zambrano homered against the Phillies on June 3, 2012.
"I saw his average coming up and I knew he was going to be swinging," Wood said. "I just missed with a pitch and he did what he needed to do with it."
"It was a cutter, [Wood] was trying to back-door a cutter and pulled it across the middle of the plate," said Cubs manager Dale Sveum. "That guy can swing the bat as good as any pitcher in the game ... and the ball would've gone a long way without the wind."
Alvarez was 2-for-2 on the day, dropping down a sacrifice bunt in the fourth and singling up the middle in the seventh.
"You talk about a pitcher having a day," Marlins manager Mike Redmond said. "He gives us six innings, hits a three-run homer, another base hit, [and] lays down a bunt. ... That's a heck of day."
Alvarez took the mound for the seventh inning, but after tossing warmup pitches, he came out of the game with a tight right hamstring and is day to day.
"I think he's going to be all right," Redmond said. "I think it just tightened up on him. We're not calling it a strain. It just tightened up on him out on the bases."
Alvarez said he should be ready for his next start.
"The right hamstring is just a little bit tight from running the bases," Alvarez said. "I think [I can make my next start]."
He also said the hamstring tightness didn't come from rounding the bases on his home run.
"[It was] on the single," Alvarez said, smiling.
Alvarez had a rocky first inning, yielding four consecutive singles that led to two runs. Nate Schierholtz then hit a sacrifice fly to bring in the Cubs' third run of the frame.
But Alvarez settled down from there, keeping the Cubs off the board from the second through the sixth. He escaped a two-on, no-out jam in the fourth by inducing a Darwin Barney ground ball for a 6-4-3 double play and getting his counterpart, Wood, to fly out.
Alvarez said the key adjustment he made after the first inning was locating the ball down in the zone.
"I started [in] the first inning leaving pitches up a little bit," Alvarez said. "But then I made an adjustment in the second inning and it turned out to be a pretty good day.
"[The adjustment I made] was pretty much pitching down in the zone. It was more [that earlier in the game] my breaking pitches, I was leaving them up."
"It was nice to see him settle in," Redmond said. "That first inning was a little rough there ... but after that, he turned it up a notch and put up zeros and gave us exactly what we needed."
Alvarez issued one walk, hit a batter, and struck out three over six innings. He has walked two batters or fewer in 10 of his 12 starts this season.
"He throws strikes," Redmond added. "He pounds the strike zone. He's got a good idea of what he's doing and [catcher Jeff] Mathis does a great job handling him. He's going to give up a few hits but he's able to make pitches when he needs to."
Mike Dunn and Chad Qualls combined for two scoreless frames and got the ball to closer Steve Cishek, who picked up his 29th save of the season.
Cishek has converted 24 saves in a row, which is the third-longest active streak in the Majors behind Craig Kimbrel of the Braves (26) and Greg Holland of the Royals (25).
With the win, Alvarez improved to 2-0 with a 2.08 ERA (six earned runs in 26 innings pitched) against National League Central opponents this year.
The Marlins won their second consecutive game for the first time since Aug. 18-19 against the Giants and Dodgers, respectively.
Manny Randhawa is an associate reporter for MLB.com. Follow him on Twitter at @MannyBal9. This story was not subject to the approval of Major League Baseball or its clubs.