Cubs struggle after first-inning outburst at Wrigley
Cubs struggle after first-inning outburst at Wrigley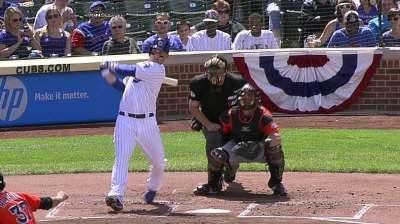 CHICAGO -- Travis Wood is a pitcher who knows something about hitting, having smacked three home runs this season. On Monday, Miami's Henderson Alvarez outdid Wood, hitting the first homer this year by a Marlins pitcher, and it was bad timing for the Cubs.
Alvarez belted a three-run home run, the first of his career, in the second inning and Christian Yelich added a solo shot to lift the Marlins to a 4-3 victory over the Cubs in front of 26,978 Labor Day fans at Wrigley Field.
The Cubs now have lost 18 of their last 23 home games, and are 5-15 in one-run games at Wrigley Field. Chicago has not won three in a row at home since a four-game streak from July 6-9.
"We want to win here, we want to win for the fans, we want to win for our home town," catcher Dioner Navarro said. "We've got 20-something games left and we want to finish strong and finish on a positive note. There's a lot of guys playing for their careers, including myself. We're a young team and trying to rebuild -- that's what they want to call it -- and there are a lot of guys playing for a spot on this team next year."
Wood missed in his bid for his 22nd quality start. The last Cubs left-hander to reach that figure was Ken Holtzman, who totaled 25 in 1970. Since '21, Dick Ellsworth's 29 quality starts in '63 lead Cubs lefties.
Wood was pulled after giving up four runs on nine hits over seven innings, and he dropped to 1-4 in his last seven starts.
"It's a funny outing," Cubs manager Dale Sveum said of Wood's game. "He couldn't get the left-handed hitter out in their lineup and couldn't get the pitcher out. Other than that, he dominated the rest of the lineup."
Yelich gave the Marlins a 1-0 lead in the first with his third home run, launching Wood's ninth pitch of the game into the right-field bleachers.
"It was pretty cool [for my] first at-bat in Wrigley," Yelich said. "It kind of got us off to a good little start there. I think [Wood] just hung a curveball, and I put a pretty good swing on it and got it over the wall."
Starlin Castro, Luis Valbuena and Anthony Rizzo hit consecutive singles in the Chicago first against Alvarez, tying the game when Castro scored on Rizzo's hit. Navarro followed with another RBI single and Nate Schierholtz added a sacrifice fly for a 3-1 lead.
"After the first four hitters of the game, we didn't put together anything," Sveum said.
Alvarez erased the Cubs' lead with one swing in the second. Ed Lucas doubled and one out later, Jeff Mathis singled to set up the pitcher's homer off the first pitch, a fastball, which opened a 4-3 lead.
"The first homer by [Yelich], it was a hanging slider," Navarro said. "He put a good swing on it, and then [Wood threw] a fastball right down the middle to the pitcher, and after that he started locating a lot better and you could see the results.
"He's been giving us a lot of innings and a lot of opportunities and today we feel short."
Wood knew Alvarez was a threat at the plate.
"I saw his average coming up and I knew he was going to be swinging," Wood said. "I just missed with a pitch and he did what he needed to do with it."
"That guy can swing the bat as good as any pitcher in the game," Sveum said of Alvarez. "First-pitch hacking, [Wood] tried to backdoor a cutter and he pulled it down middle in and the ball would've gone a long way without the wind."
Alvarez also singled to lead off the seventh, and he took the mound to start the Cubs' seventh. But the right-hander was lifted because of tightness in his right hamstring.
Wood was making his career-high 28th start, and he's totaled 179 innings so far, well above his previous high of 156 innings set last year. This is his first full season in the big leagues, and to total 200 innings would be a nice way to finish. He could do it, with about five starts remaining.
"It's a number that any starting pitcher figures that if you get to 200 innings, you had a pretty good year and did what you're supposed to do for a starter to get deeper in games, and help the bullpen out," Sveum said. "He's had a pretty quality year all the way around."
"It'd be nice, and that's what a lot of pitchers' goal is," Wood said of reaching 200 innings. "For me, it's taking the ball every fifth day and going as deep as I can and giving them everything I've got."
Carrie Muskat is a reporter for MLB.com. She writes a blog, Muskat Ramblings, and you can follow her on Twitter @CarrieMuskat. This story was not subject to the approval of Major League Baseball or its clubs.