Ortiz would love to play for Farrell for rest of career
Ortiz would love to play for Farrell for rest of career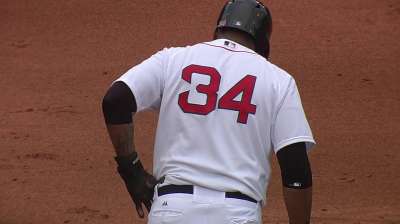 BOSTON -- When David Ortiz was asked his definition of a players' manager his reply was concise.
"John Farrell," he said.
Then, Ortiz elaborated on why the Red Sox's clubhouse has been a veritable sea of tranquility this season.
"I don't think there's a guy in this room that doesn't want to play for him," he said. "The way he gets along with all of us, I would love to play for him the rest of my career.
"I know there are situations as a manager that you have to face, that you have to deal with players the way the player doesn't feel comfortable with. But sometimes that's not even up to you. Sometimes it's up to the boss and everybody has somebody from whom you have to follow orders.
"Most of the time I guarantee it's not [Farrell]," Ortiz continued. "Your getting orders from somebody else what they feel he needs to do. But he's been dealing with all of us well."
Ortiz particularly relishes the individual attention Farrell gives to each player.
"I went into his office the other day because he wanted to make sure I was doing OK," the Sox slugger said. "He does that all the time. When he called me in that made me feel good. We had a little chat and I walked out of his office with a smile on my face. The next thing you know, 'Boom, Papi takes off.'
"Those little things make a difference in our careers. He has a good way of keeping things positive. He covers every single territory that we need to have covered. That's why there's been such a huge difference between where we were last year and where we are now. Everybody wants to bust his tail for him because he does it for us."
Mike Scandura is a contributor to MLB.com. This story was not subject to the approval of Major League Baseball or its clubs.