Victorino, Ellsbury back after exiting Sunday's game
Victorino, Ellsbury back after exiting Sunday's game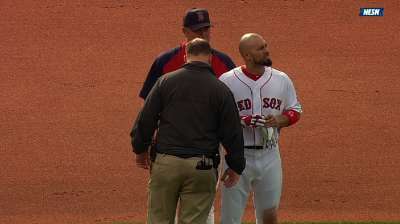 BOSTON -- As far as Red Sox manager John Farrell is concerned, anything short of a fractured leg won't prevent any of his players from taking the field.
The latest examples are Shane Victorino, who left in the sixth inning of Sunday's game against the White Sox with a hip contusion and Jacoby Ellsbury, who left in the top of the ninth when he aggravated a left thumb injury. In Monday's 3-0 loss to the Tigers, Victorino went 1-for-3 and made a nice running catch, while Ellsbury went 0-for-3 and made a spectacular diving grab.
"Most everyday player is dealing with something," Farrell said. "But they're ready to go [today]. Everyone here recognizes the situation we're in and the need to answer the bell every day.
"I think that probably stems from when their teammate looks them in the eye and asks, 'Are they ready to go today?' I think it's hard to tell your teammate 'No' than it would be maybe me. That's one of the characteristics of this team in that there is accountability to one another in here."
Mike Scandura is a contributor to MLB.com. This story was not subject to the approval of Major League Baseball or its clubs.