Axelrod, defense lose handle in Bronx rout
Axelrod, defense lose handle in Bronx rout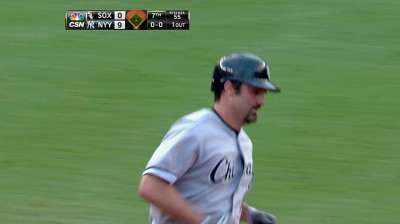 NEW YORK -- The White Sox endured a one-hour and 53-minute rain delay during the second inning of Monday's series opener against the Yankees.
Aside from sharp relief work produced by Jake Petricka and David Purcey and a somewhat historic Paul Konerko solo homer in the seventh, that downpour was pretty much the overall highlight in the South Siders' 9-1 loss at Yankee Stadium. The loss dropped them to 0-4 at the outset of their 10-game road trip.
When the heavy rain stopped, the visitors had lost one of their most consistent starters this season in Jose Quintana after just one inning and 20 pitches. The man already possessing 16 no-decisions was given the defeat from his small amount of work, and the White Sox (56-80) then had to deal with one of the ugliest efforts, and specifically innings, in recent memory.
"I feel bad for Q. He works hard between starts," said Konerko of Quintana, who is scheduled to start Sunday in Baltimore but could pitch Friday or Saturday, with Monday being viewed more as a side day. "You could tell he was down about being taken out. It was the right move, I'm sure."
"It was just too long to be able to have Q go back out there," said White Sox manager Robin Ventura of Monday's rain-induced problems. "After that, that early part when we got back in there, that was just terrible baseball."
New York (73-64) scored eight times in the fourth inning against Dylan Axelrod, who has allowed 13 earned runs over 17 relief innings since leaving the rotation, but has only pitched three times since Aug. 11. Thirteen Yankees came to the plate in the fourth and seven straight reached base before Robinson Cano popped out to second baseman Gordon Beckham.
This inning quickly became a microcosm of this dismal season, as the White Sox defense completely fell apart.
Vernon Wells reached on a playable ground ball up the middle that deflected off of Axelrod.
Alex Rodriguez drew a walk 10 batters into the inning, but only after Josh Phegley dropped a foul popup to extend the at-bat.
Wells followed with a grounder to Adam Dunn at first that should have been an inning-ending double play, but Dunn threw the ball wide of shortstop Alexei Ramirez and into left field, allowing two runs to score.
Six of the eight runs that scored were earned, in a frame that certainly won't make the postseason highlight reel.
"You give them an inch and they take a mile. The Yankees are a great team," Konerko said. "It kind of unraveled out there. It wasn't a heartbreaker, so let's shake it off and get back out there tomorrow."
"That was exactly what we did in the first half, which is just not good baseball," Ventura said. "We're going to have to get better [or] you find somebody else in the offseason."
Philip Hughes started for the Yankees, but he exited after 1 1/3 innings because of the rain delay. With Hughes' struggles of late, it wasn't as significant of a loss for the Yankees as Quintana's departure turned out to be for the White Sox.
David Huff (2-0) earned the victory with 5 2/3 innings of work, allowing five hits and striking out three.
"Today, I warmed up like a reliever," Huff said. "I was expecting Phil, honestly, to go back out there. I was kind of caught off guard. I'm conditioned enough to go out and start, but I warmed up like a reliever and took that mentality into the game."
One of those White Sox hits was Konerko's homer to left, giving him 10 for the season and 432 for his career. The blast moved him past Cal Ripken Jr. for sole possession of 44th place on MLB's all-time list.
Although Konerko never has been one to study milestones in-season, he appreciated the mention alongside a Hall of Famer who played the game right.
"As a kid growing up, the beginning of my career was the end of his career. He's the model of how you want to do it out there," Konerko said. "So that's kind of cool. He played a long time.
"Being a shortstop puts in perspective his offensive capabilities, and also playing short is a little different than me. Any time you get mentioned with guys like that, it's a cool thing. Other than that, I'm just trying to move along here."
Ventura's first season at the helm featured the White Sox sitting atop the American League Central for 117 days. Now, on Sept. 2, their division elimination number sits at two, meaning any combination of Tigers wins and White Sox losses adding up to two officially knocks them out.
If the goal over the final 26 games remains to win as many as possible, the White Sox will have to play a great deal better than Monday, regardless of the inclement weather.
"Where we're at, we've had quite a few [low points in '13], so it just has to pick up from here," said Ventura, whose team made at least three errors in a game for the seventh time this season. "We can't go backwards at this point."
"Any time you have a rainout and both starters are out of the game, it's a crapshoot after that," Konerko said. "We just lost the crapshoot today."
Scott Merkin is a reporter for MLB.com. Read his blog, Merk's Works, and follow him on Twitter @scottmerkin. This story was not subject to the approval of Major League Baseball or its clubs.