Terdoslavich working hard to be best he can be
Terdoslavich working hard to be best he can be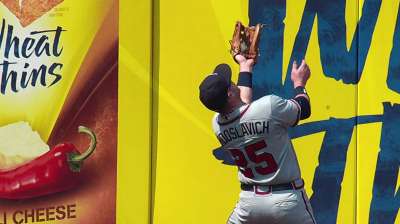 ATLANTA -- After enjoying a productive Grapefruit League season, Joey Terdoslavich exited Spring Training with the hope that the Braves would at least add him to their expanded roster when September arrived. His arrival in Atlanta came earlier than expected.
But while spending the past two months at the Major League level, Terdoslavich has not gained any sense of accomplishment or complacency. He is still fueled by the determination that he displayed when he spent last winter attempting to learn how to play the outfield while working out with his former high school's team.
"When the season started, I was hoping to get here by September, maybe earlier if something happened," Terdoslavich said. "It worked out that I got here earlier than I thought. I'm getting more of a comfort level up here. But I'm not comfortable. You never want to be comfortable. But things have been going really well."
Since getting his first call to the Majors on July 4, Terdoslavich has verified he has the potential to be a reliable switch-hitter at the big league level. He has batted .324 (12-for-37) with a .824 OPS in the 12 games that he has been in Atlanta's starting lineup. But Terdoslavich understands that to find a lasting spot at the big league level, he will have to continue proving he is capable of being an asset on the defensive end.
Terdoslavich's days as a third baseman essentially ended when he made 22 errors while playing 50 games at the position for Triple-A Gwinnett at the start of the 2012 season. When this influenced his demotion to Double-A Mississippi, he primarily played first base.
With Freddie Freeman entrenched as Atlanta's first baseman, Terdoslavich recognized the significance of proving himself as an outfielder while spending this season's first half with Gwinnett. While he still has plenty of room for improvement, he has proven reliable enough that he has started nine games as an outfielder -- seven in left field and two in right field -- since coming to Atlanta.
"I don't want to be a guy that goes out to the outfield and is considered to be just serviceable," Terdoslavich said. "I want to be known as a good outfielder, or good at any position. I want to be a guy that plays both sides of the ball. So I'm going to continue to work at it and I'm going to do the same thing this offseason. Some guys say they want to be good enough. I want to be the best that I can be out there."
Mark Bowman is a reporter for MLB.com. Eric Single is an associate reporter for MLB.com. This story was not subject to the approval of Major League Baseball or its clubs.