Schu making an impact as Nats' hitting coach
Schu making an impact as Nats' hitting coach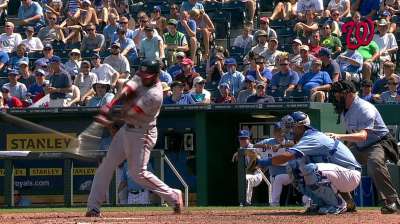 WASHINGTON -- It's been a little more than a month since the Nationals dismissed hitting coach Rick Eckstein and brought in Rick Schu, and at least on paper, the change appears to have had an effect.
In 99 games with Eckstein this season, the Nationals hit .241 and scored 3.71 runs per game. In 36 games with Schu before Sunday, they had hit .273 and averaged 4.5 runs per game. The Nationals have also struck out less frequently (once per every 5.1 at-bats instead of once per every 4.3 at-bats) since Eckstein's departure.
While the Nationals have also had a healthier lineup since Schu's arrival, the new hitting coach hopes that he has made a difference.
"Hopefully, because we've been doing good," Schu said, laughing. "This team got kind of labeled as the best team in baseball, and I think everybody put so much pressure on themselves. I just tried to come in here and get guys to not try so hard, be more of a team ... move runners, drive that runner in from third with less than two [outs], things like that, more team-oriented stuff."
While Eckstein liked to see players pull the ball, Schu said that he wants them to use the whole field. Otherwise, Schu said that he has not made any drastic changes. He works with each hitter individually to build upon what they do well and said the only player that he hasn't had many conversations with is shortstop Ian Desmond.
"He's been kind of Davey's guy," Schu said. "He's been messed with so much, he's a guy you kind of just have to let him play."
When Eckstein was dismissed in late July, some Nationals said that a new hitting coach would not make much of a difference. But for Denard Span, who is in the midst of a career-best 14-game hitting streak, Schu's arrival was needed.
"He's made a big difference. I've got to give him credit. Definitely him and [first-base coach] Tony Tarasco," Span said. "Since Schu moved into the new position, he just brought me back to basic stuff -- staying through the ball, staying balanced, having rhythm, things that I've done to get me to this point that I got away from."
Tom Schad is an associate reporter for MLB.com. This story was not subject to the approval of Major League Baseball or its clubs.