Duda to get bulk of time at first; Lutz provides depth
Duda to get bulk of time at first; Lutz provides depth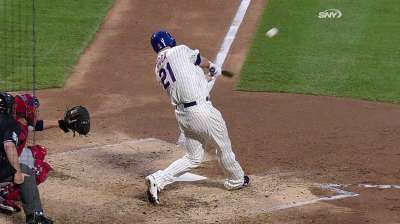 WASHINGTON -- With Ike Davis having strained his right oblique on Saturday, likely sidelining him for the season, Lucas Duda got the start at first base for Sunday night's series finale against the Nationals. Manager Terry Collins has said that Duda will be his primary first baseman going forward, with Josh Satin getting some starts against left-handed pitchers.
New York also recalled Zach Lutz from Triple-A Las Vegas on Sunday to give the club some additional depth at the position.
Duda hadn't played much since he was recalled from Las Vegas on Aug. 24. He was hitting .232/.355/.429 with 11 home runs in 72 games with the Mets entering Sunday.
Collins believes Duda will benefit from getting regular playing time at first base, something that helped him in the past when Davis has been out. The Mets also have used him in the outfield at times during his career.
"I think it's going to certainly relax him a little bit," Collins said. "One of the things Lucas and I talked about when he came back, we talked about the situation in the outfield and he said, 'You know, I'm a first baseman.' And I said, 'I'm well aware of it.' So I think it will help him, yes."
Lutz was hitting .293/.377/.479 with 13 home runs for Las Vegas. The 27-year-old, who also plays third base, has appeared briefly with the Mets in both of the past two seasons, going a combined 2-for-15.
Andrew Simon is a reporter for MLB.com. Follow him on Twitter @HitTheCutoff. This story was not subject to the approval of Major League Baseball or its clubs.