Clutch rally late helps Nats gain in Wild Card race
Clutch rally late helps Nats gain in Wild Card race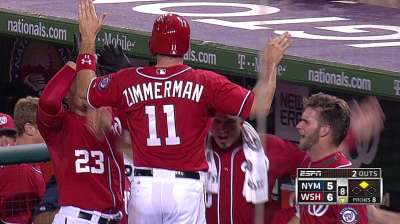 WASHINGTON -- The same resilience that has kept the Nationals' playoff hopes alive helped them avoid a sweep against the Mets on Sunday night.
After Ross Ohlendorf's pitches were repeatedly pounded to the deepest parts of Nationals Park, and after they stranded 10 baserunners through seven innings, and after they seemed destined to let another big game slip away, the Nationals rallied. They scored three runs in the eighth inning, capped by Jayson Werth's go-ahead RBI double, and edged the Mets, 6-5.
Werth's double sent Ryan Zimmerman hauling home from first base. He beat the throw to the plate by a step, pumped his fist and yelled at nobody in particular. Bryce Harper stood on the top step of the dugout. He said that he was "fired up" and ready to run out and tackle Werth.
With losses by Arizona and Cincinnati earlier in the day, the Nationals cut their deficit in the National League Wild Card race to 6 1/ 2 games.
"That's what good clubs do," Werth said. "They come back. And that's what we're going to have to do from here on out. We're going to have to find a way."
After losing the first two games of the series, the Nationals knew that Sunday night had all the makings of a prime time embarrassment.
"I can't sleep as it is," manager Davey Johnson said. "If we [had gotten] swept, I'd be having nightmares on that bus ride to Philly."
And for much of the game, a sweep looked likely.
The Mets only needed eight pitches to grab a 1-0 lead. Ohlendorf allowed six extra-base hits, including an upper-deck home run to rookie Matt den Dekker in the second inning and a double to the pitcher, Jon Niese, in the fifth.
Ohlendorf's velocity was lower than usual and he left pitches up in the strike zone. The result? Batting practice for the Mets' offense.
"That's the worst my command's been I think all season," Ohlendorf said after allowing four earned runs over five innings. "I don't expect that to carry over for the next one. I feel like I'll make some adjustments. My command just wasn't good."
The Nationals' offense, meanwhile, was at one point 3-for-12 with runners in scoring position.
"We had some chances early," Werth said. "We had Niese on the ropes a few times and nothing came of it. The attitude in the dugout was upbeat. Even though we were down, we definitely weren't out."
The bullpen gave them reason to hope. Craig Stammen, Ryan Mattheus and Erik Davis combined to throw 2 1/3 scoreless innings. Ian Krol, who was recalled from Triple-A Syracuse before the game, allowed one run on two hits in the seventh.
For all that had gone wrong in the early stages of the game, the Nationals entered the bottom of the eighth with a two-run deficit and made their move. The rally began with singles by Scott Hairston and pinch-hitter Denard Span, who laced a base hit up the middle to extend his career-best hitting streak to 15 games and bring up Harper.
Facing Mets left-hander Scott Rice, Harper got a 1-0 curveball that, in retrospect, he probably could have crushed. Instead, he laid down a sacrifice bunt and advanced both runners.
"As tough times as we've had with hitting with runners in scoring position, putting the tying run down there ain't a bad idea," Johnson said. "And with some pretty good hitters coming up behind him."
One of those hitters, Anthony Rendon, grounded out to shortstop, allowing Hairston to score and cutting the deficit in half. Then Zimmerman hit a hard ground ball to shortstop, and Omar Quintanilla's throw to first was wide. Span hustled to score all the way from second base.
"The same thing happened to Ryan the other day at third base," Mets manager Terry Collins said. "[Quintanilla] made that same play the other day. Zimmerman's not that good a runner out of the box, so you've got a play. It's just the throw was off the bag."
That set the stage for Werth, who missed 28 games with a hamstring strain earlier this season but has since inserted himself into the discussion for the NL Most Valuable Player Award. Since his return on June 4, he ranks among the NL's best in on-base percentage (.429, first), batting average (.346, second) and slugging percentage (.579, third).
"He's been swinging the bat good," Johnson said. "Every at-bat, you expect something great to happen."
On Sunday, it did. Werth's double to the gap in right-center field put the Nationals ahead for good. More importantly, it gave them a playoff pulse heading into the final 26 games of the regular season.
"We're going to have a little wiggle room there, but not a whole lot," Werth said. "I've been in this situation before. I know it can be done. I've been on teams that have done it. I believe. I got faith. We've got a long hard road, but I believe."
Tom Schad is an associate reporter for MLB.com. This story was not subject to the approval of Major League Baseball or its clubs.